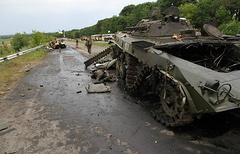 Forces of anti-terrorist operation destroyed by bombing the most part of a column of fighters which left Slavyansk and Kramatorsk.
The war reporter Konstantin Mashovets reports about it in the Facebook, referring to data of informed circles among fighters.
In total Slavyansk and Kramatorsk were left by more than one thousand people, apart from two companies of cover which almost were given at once.
As of July 3-4 terrorists had 18 tanks (together with monuments), about 30 BMP - the armored personnel carrier - BRDM, BMD and 12 STORAGES. It is reported that tanks lost everything, took out only one, but also it didn't reach the destination.
«To Donetsk after attack by military less than 700 people got. From equipment Strelkov's fighters still had 1-2 BRDM, 3 BMP, 3 BMD, 2 Nona, 2-3 armored personnel carrier, 1 tractor with the STORAGE, 1 tank which, obviously, broke on the road, 3 trucks, 2 «Grada». Also it is reported that terrorists are dissatisfied, after all they in haste or intentionally left cash, and now «Arrow» to distance there are 5 days to find money. Also Ukrainian military got bullet-proof vests and numerous ammunition. Terrorists who escaped, declared the Arrow, yet won't receive money, won't be at war, reported a source» , - Mashovets writes.
We will remind, in the night of July 5 terrorists with fight broke from Slavyansk and Kramatorsk also went to Donetsk.