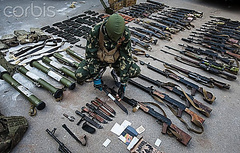 Fighters of the terrorist Donetsk People's Republic admitted that receive military equipment and the weapon from Russia. It was confirmed also by the Kremlin propagandist Sergey Kurginyan.
About it there is a speech in video of conversation of Kurginyan with leaders of terrorists from Slavyansk.
So, self-proclaimed "the chief of a staff from Slavyansk" which submits to the leader of terrorists Igor Girkin - to Strelkov was indignant that Russia helps them the weapon and equipment insufficiently. "The chief of a staff" reported that only in Slavyansk they received «three tanks and three BMP».
In turn the leader of terrorists Pavel Gubarev added that on Donbass «there are divisions which are armed cap-á-pie, but they aren't at war».
- For the last three weeks we received tanks 30-40, they weren't earlier, - added in turn «chief of a staff».
- Together with it PTRS (Simonov's anti-tank gun) Great Patriotic War times are delivered SSPC (Simonov's self-platoon carbine). And why aren't delivered to PTURS, Hashim (RPG)? - I was indignant "the chief of a staff" Strelkova.
- We now pass into PTURS sphere, - Kurginyan in turn told fighters.
- It is very important because against us are exposed a lot of tanks and at us there is nothing to beat... from 5 PTURS only one worked, - the chief of a staff answered it.
- I consider that until recently military deliveries went to you awfully. approximately till July 3. From this time, they went better. It is categorically not enough of them, in it we have no disagreements. My task to convince the Russian public that you have to have much «Bassoons» (PTRK), is a lot of «Cornets» (PTRK) to provide to you it is a lot of «Needles» , and certainly, you have to receive not such automatic weapon, as at you now. I think, as with the weapon we will help, and there will be those devices which I called, and there will be an equipment which is necessary for you, - Kurginyan told.
As it was reported earlier, on July 5 forces of anti-terrorist operation destroyed by bombing the most part of a column fighters which left Slavyansk and Kramatorsk.
We will remind, in the territories freed from fighters the Ukrainian military withdrew weapon arsenals and ammunition, and also transport with documents of the account and symbolics of the Russian Federation.