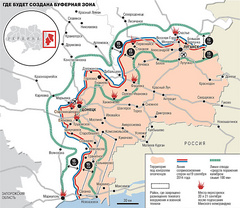 Heads of the Ukrainian and Russian military departments, and also representatives of OSCE on Friday, September 26, meet for delimitation of a buffer zone on Donbass.
About it reports «Ukrainian truth».
So, the meeting takes place to the north of Donetsk–there representatives of Ukraine and 76 participants of negotiations from Russia and OSCE gathered. The purpose of a meeting is delimitation of a buffer zone for which the Ukrainian military and fighters will take away heavy arms.
It is known that participants of tripartite contact group agreed about creation of a 30-kilometer buffer zone on a front line on Donbass in Minsk on September 19. The Ukrainian military and fighters have to take away the heavy arms on 15 kilometers everyone in the party from a front line.
On Donbass the truce since September 5 when in Minsk signed the protocol on ceasefire officially lasts, but российско - terrorist armies constantly break it.
We will remind, earlier it was reported that OSCE will divide «safety zone» on Donbass on five sectors.