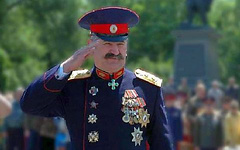 Representatives «Cossack national guard» Vseveliky army of Donskoy, based now in Anthracite, replaced the name of the area. According to the decision «Cossacks» , now the Antratsitovsky area is called «village Antratsitovskaya of the Kozitsynsky region of the Rostov region».
About it «informator.lg.ua» representatives of the agricultural firm trying to conduct work in Anthracite reported.
Businessmen showed in «to komendartura» in Anthracite the paper which is given out in the government of LNR. On what they were given the answer that this «document» here has no force that this territory doesn't submit to LNR.
We will remind, earlier the ataman so-called «Don Cossacks» Nikolay Kozitsyn which gangs among other fighters are active on Donbass, declared, that it has a nuclear weapon.