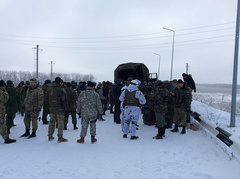 People in a military uniform, same as at regular army Russian Federation, examine the Ukrainian military going to the Donetsk airport.
About it the journalist Ruslan Smeshchuk on the page on Facebook writes.
«Rotation of defenders of the Donetsk airport now happens through territories under control DNR. Trucks with soldiers in an agreed place are already waited by the armed people calling themselves military police of DNR. There they examine personal belongings of soldiers—and their transport. It is possible to take small arms with one holder, and the limited quantity of cartridges in boxes. It everything occurs within the Minsk agreements. Under supervision of observation mission» ,—the journalist writes.
Also he added that military have an opportunity to avoid similar examination and to avoid a similar shame, but they were given the order.
«The man with marked by an inscription «orders everythingmilitary police» black bullet-proof vest. To it around forty—and it has excellent Russian. Very good speech—and it is perfect without impurity of dialects. Without Donetsk gakanye, and the Ukrainian shokanye. Without Russian okanye and akanye. Without tightening of vowels. And still it bulls has Papny of galoshes. Bullpapny of galoshes (the scheme of configuration of mechanisms of rifles and machine guns at which the trigger is taken out forward and located before shop—PN). And you from where sort—I asked it? I from Donetsk—here I was born and I live—the man answered me. And in a couple of minutes, during approach of the next car to survey, he asked all to depart and nestle on a curb. To a curb. To nestle» ,—Smeshchuk summarized.
We will remind, earlier it was reported that from - for connivance of command of the Ukrainian army during so-called «truces» in the anti-terrorist operation zone fighters 93-й the mechanized crew became object of mockery from terrorists in Donetsk to the airport.