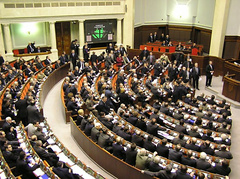 The Verkhovna Rada of Ukraine officially recognized Russia as the country - an aggressor. Such statement to the world community at an emergency meeting of parliament was supported 271 deputies.
Reports about it «Left coast».
In it it is noted that Ukraine is object of military aggression from the Russian Federation which it carries out, including, due to delivery of arms to fighters. Aggression, according to the document, began in February, 2014.
«The Verkhovna Rada recognizes the Russian Federation as the state - an aggressor and urges the international partners not to allow to Ukraine impunity of the crimes against humanity committed since the beginning of aggression to recognize Russia as the country - an aggressor, and so-called «DNR» and «LNR» - terrorist organizations» , - it is told in the document.
Rada also urged to strengthen sanctions against Russia to force it to return the Crimea, to release hostages. Also the parliament asks to limit powers of delegation of the Russian Federation in PACE.
Besides, deputies appealed to the international community to provide to Ukraine voyenno - political support and to expel Russia from the UN Security Council for unblocking of decisions of the UN on Donbass.
We will remind that Russia constantly disproves the participation in military operations in the east of Ukraine. Thus the Ukrainian authorities estimate military presence of the Russian Federation on Donbass at 8-9,5 thousand people. In the USA consider that the military aid is obvious to fighters from Russia and only those who doesn't want to trust in it don't believe in her.
Also we will remind that earlier PACE committee agreed to remove from the Russian Federation the majority of sanctions.