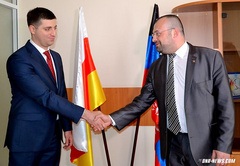 The republics South Ossetia opened "embassy" in the territory of Ukraine which at the moment is under control of terrorists from the so-called Donetsk People's Republic.
Report the separatist sites about it.
So, on April 16, 2015, opening of Representation of the unrecognized republic South Ossetia in the so-called terrorist Donetsk People's Republic took place.
"Action took place with personal participation of the Minister of Foreign Affairs of DNR Alexander Coffman and official representative of the Republic South Ossetia. Emergence of Representation will expand the bilateral relations between the Republics", - it is told on the sites of terrorists.