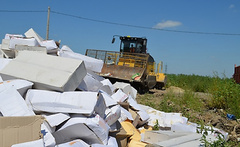 In Belgorod will destroy 10 tons of sanctions cheese. I reported a press about it - the secretary Yuli Melano's Rosselkhoznadzor, transfers TASS.
- Destruction of sanctions production in Belgorod began. According to the specified data, the lot of products, being liable to destruction, makes 10 tons, but not 7 tons as it was reported earlier,—she declared.
According to her, cheese will be crushed by means of a skating rink, and then will be moved to specially dug out hole.
Melano noted that the origin of cheese is precisely not known, production arrived from Ukraine.
15:30Later in a network there were photos and video of destruction of cheese in Belgorod.
As it was reported earlier, the Russian President Vladimir Putin I signed the decree under which the agricultural raw materials and products forbidden to import to Russia according to sanctions will be to be destroyed directly on border since August 6.
We will note that to look for and destroy the goods forbidden to import within grocery embargo the Federal Customs Service (FCS), Rospotrebnadzor and Rosselkhoznadzor will be not only on border, but also on all territory of the country, including in shops and in warehouses of grocery networks.
At the same time, as write «News» with reference to a source in Rospotrebnadzor, eating by officials of the Russian Federation the sanctions production intended to destruction will be considered as violation and to fall under criminal article.
«The instructions developed by department will exclude opportunity to try illicit goods and if the employee makes it, in an inadequate way will execute the functions. It, in turn, can entail punishment according to p.1 Art. 293 of UK ( «Negligence» ), providing to 120 thousand rubles of a penalty, obligatory works till 360 o'clock, corrective works till 1 year or arrest for a period of up to 3 months» , - writes the edition.
Press - the secretary of Rosselkhoznadzor Alexey Alekseenko confirmed that eating «sanktsionka» officials are considered violation, but I found it difficult to tell precisely, whether it falls under criminal article.
- It isn't necessary to eat - it is necessary to destroy that the product wasn't we will eat.This violation precisely very serious, - was told by him.
We will remind, from - for continuations of aggression in Ukraine the EU I prolonged sanctions against Russia until the end of January, 2016.