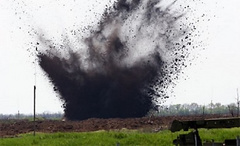 In sector «M» one fighter is wounded in attack time, another was lost, having been undermined on a mine.
Reports about it site the city of Mariupol with reference to a press - service of sector «M».
By data a press - services, near Mariupol fighters opened fire at Staroignatovka and Granite: «On November 10 in sector «M» formations «DNR» continued to fire on positions of AFU. From small arms, large-caliber machine guns and grenade launchers it was fired across Staroignatovka and Granite».
In a press - service of sector «M» specified that for last days 2 attacks are recorded positions of Armed forces. From 9:57 till 10:10 on strong points in Staroignatovke not aim fire from small arms with the muffler was conducted. Victims among staff of AFU aren't present. At 10:30 on the southern village fence Granite from small arms and grenade launchers fire was opened. The serviceman is wounded.
In both cases from AFU it wasn't returned fire. In sector «M» from explosion of a mine the serviceman was lost. The tragedy happened under Volnovakhoy. At the moment clashes it isn't recorded.
We will remind, earlier in the anti-terrorist operation zone military were compelled to open fire on the car, whose driver arranged races through a post.