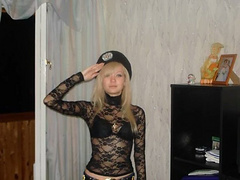 In terrorist group «DNR» proceed «political castlings» in power. New «Minister of Foreign Affairs» terrorist "republic" there was Natalya Nikonorova.
Report about it «News of Donbass».
As appears from the widespread copy of the decree «heads Dnr» , since February 22 it is dismissed from a position «Minister of Foreign Affairs» Alexander Coffman. Its place was also occupied by Nikonorova. The Russian extremist Eduard Limonov wrote that it earlier - «the right hand of Pushilin was also the assistant to deputies of the Russian and Piskun in the Verkhovna Rada».
In online - the register «Pos_paki» it is specified that Natalya Nikonorova throughout two convocations was the assistant to the People's Deputy from Party of Regions Svyatoslav Piskun who held a position of the head of the Prosecutor General's Office of Ukraine three times. Nikonorova–the lawyer by training, worked as the lawyer of the device «national council of DNR» also I represented Donetsk terrorists in contact subgroup on political affairs in Minsk.
As writes the Internet - the edition «62.ua» , new «to the minister» the hard problem of deepening of diplomatic relations with two psevdogosudarstvo which recognized «is necessaryDNR» - North Ossetia and «LPR». Users of social networks already found curious details from Natalya Yurevna Nikonorova's life. For example, it is claimed that a certain Alexey Yuryevich Nikonorov is vice-chairman «national council of DNR» , and Yury Alekseevich Nikonorov– «minister of the industry of DNR».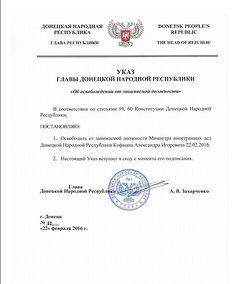 The Russian who now is the head of the Zakarpatye RSA, in the comment «TCH» I disproved that Nikonorova was his assistant.
- It is personal revenge of Limonov that when I was the deputy minister of internal affairs and the chief of General Directorate of Ministry of Internal Affairs in the Crimea, we detained his and his supporters that they took one of towers belonging to military unit and scattered leaflets for separation of Sevastopol from Ukraine from there. Then all were arrested, there was a scandal. He repeatedly on me wrote any heresy and nonsense.This is mentally sick person, - the Russian declared.
- From where at me from Donetsk the assistant could undertake? Tomorrow Limonov will write that I died, and all mass media will write that the Russian died. It as in a joke that the woman bl*dut, and the husband learns the last. And I learned the last that at me some prostitute was an assistant, - the official added.