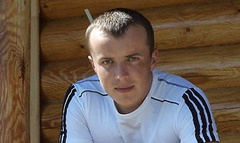 From captivity of fighters on Donbass have released the Ukrainian military Taras Kolodiya who has got to them during fights at the Donetsk airport in 2015 to year.
The president of Ukraine Petro Poroshenko has reported about it on Twitter.
"Just the chairman of the SSU has reported on release of our cyborg of Taras Kolodiya. After nearly 2 years of captivity he at liberty. Thanks to all who promoted it", - Poroshenko has reported.
Let's note, the fighter 80-й airmobile crew of AFU Kolody was taken prisoner fighters in January, 2015.
In turn, the first vice-the speaker Irina Gerashenko has reported that Kolody already in the Ukrainian territory and will be in Kiev soon. She has reported that at the request of the president the fighter will undergo treatment in clinic 4 managements.
"We with the SSU, volunteers, church fought for his release together nearly 2 years", - has added Gerashchenko.
Let's remind, earlier from captivity «LPR» have released the crippled Ukrainian Zhemchugov.