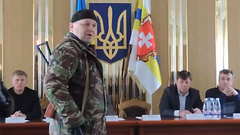 In the activist was exactly killed «Right sector» Alexander Muzychko, is better known as «Sashko Bely».
About it «Crime. Is NOT PRESENT» reported reliable sources in the Ministry of Internal Affairs of Ukraine in the Rovno area which at present are on a crime scene.
So, according to interlocutors of the edition, murder happened near local cafe «Three crucians». Previously, unknown arranged firefight in which consequence Muzychko was lost. At a crime scene works - it is investigative - task force.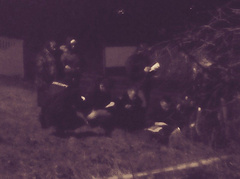 Besides militiamen check information on kidnapping of six more people who had a rest in cafe, some of which - activists «Right sector». Also among the stolen it could appear and the director of the local center of employment who also at the time of firefight was in cafe.
It should be noted that the People's Deputy of Ukraine Alexander Dony reported about murder alsoon the page in Facebook.
«Just reported that killed «Sasha Bely» (Aleksandra Muzychka) in Exactly. Two cars cut its car, pulled out, replaced to itself. Then threw out on the earth - hands behind the back in the handcuffs, two shots in heart» , - Dony wrote.
At the same time, according to local mass media, there is an assumption that murder was committed by the Russian diversionary group. It is noted that in Alexander Muzychko found three gunshot wounds in a foot and heart, and he when a body found, was chained in handcuffs.
In the territory of the cafe where there was a murder found some sleeves, including from Makarov's gun.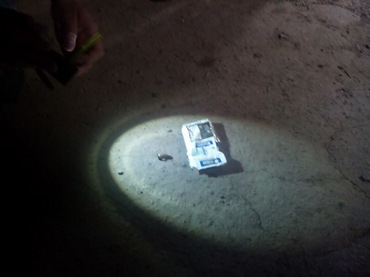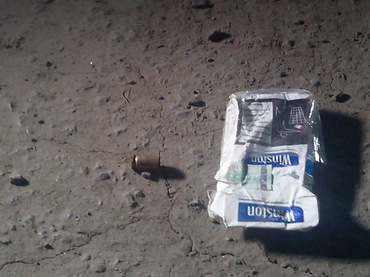 The sleeve found on a place of firefight. Photo: http://vse.rv.ua/
Also information on Muzychko's murder was confirmed also by the head of the power block of rovnensky «Right sector» Yaroslav Granitny. Now it with colleagues from «Right sector» is on an event place. Activists look for with investigators of a detail of execution, reports charivne.info.
According to him, he saw Sashk Bely's body. On it the clothes are broken off.
- Those who killed him, were convinced that on him there is no bullet-proof vest, and then shot at heart.
According to Granite, more killed nobody. Besides, he confirmed also information on the stolen. However, according to Granite, their five, three of them - fighters «Right sector» and two civil. Also it was stolen and the chief of the city center of employment Vladimir Datsenko.
We will remind, Sasha Bely became known after on the Internet there were some scandalous rollers with him. On one armed activist I acted at presidium of the Rovno regional council, on other - I hit the Rovno prosecutor allegedly for a bad legal investigation of murder of the woman.
After that White the Russian journalists started using a name actively to illustrate «horror stories» about radicals who walk about on streets of Ukraine.
In Russia White in absentia arrested as regards 1 article 209 of the Criminal Code of the Russian Federation ( «Creation of the steady armed group (gang) for attack on citizens and the management of it» ).
Thus itself White warned that can kill him.