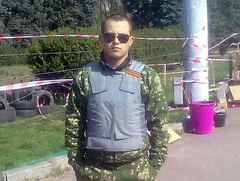 In Nikolaev the participant of actions of the pro-Russian organizations Dmitry Getmantsev who took part in storm of the Nikolaev regional state administration on April 7, and also is the main thing accused of criminal proceedings upon break-in of office of party «Vitaly Klitschko's BLOW» in Nikolaev on February 20, now threatens to shoot activists of the Nikolaev national militia «For uniform Ukraine».
Video with the corresponding statement of the young guy is placed on YouTube hosting.
- The announcement to «To national militia» : if on May 8 posts aren't removed in the evening, personally I and my friends we will move away them a large number of people in the same radical way as they cleaned our tents, also itself we will shoot them as they shot us, to beat the head also itself, - he declared, speaking at meeting near a monument to Heroes - to olshanets on April 21.
The Nikolaev human rights activist Elena Kabashnaya at herself on the page on the social network Fecebook expressed opinion that this statement of the pro-Russian protester–it is aiming for SBU.
«It is strange if doesn't follow any reaction from the authorities. The small group of finally gone haywire idiots who absolutely not aren't supported by inhabitants of Nikolaev, eats to imitate federalism, separatism, an ukrainofobiya... It would be time to use the power also!» - considers Kabashnaya.
It is remarkable that on video it is visible that number of holding a meeting no more than 40 people and the prevailing majority of them–pensioners.
We will remind, about 25 young people were reported earlier about, how late at night on February 20 with girls sticks and stones beat out all windows at party office «BLOW» , located on Moskovskaya Street. Then I photographed swells surveillance camera.
Dmitry Getmantsev before break-in of office of UDAR party on Moskovskaya Street on February 20.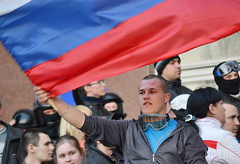 As eyewitnesses of that incident after young people smashed office told, they slowly went towards Admiral's, and one, obviously main of them, told: «We disperse and meet near YEAH». Besides, one of recorded on video cameras of supervision of young people was photographed by activists of the Nikolaev Maidan on February 19 under walls of the Nikolaev regional public administration where those days were on duty so-called «defenders YEAH» , which there I convoked the ex-the governor Nikolayevshchina Gennady Nikolenko and ex-the head of a regional council Igor Dyatlov for protection of the power. Nikolenko, about which participation to the organization of break-in of office «BLOW» declared, in the morning of the next day from robbers I disowned, having told that it not his people.
And already on April 7 Getmantsev who is externally similar to one of these robbers, participated in unsuccessful attempt of capture Nikolaev YEAH, during which there were serious fights.