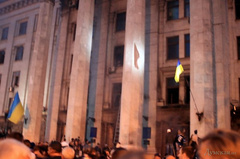 Bodies eight victims in the Trade Unions Building in Odessa are identified. All of them appeared inhabitants of Odessa.
About it to agency «Interfax - Ukraine» I reported head of department of public relations of General Directorate of Ministry of Internal Affairs of Ukraine in Odessa region Vladimir Shabliyenko.
According to him, it is now investigative - the task force continues work.
We will remind that in Odessa on Friday, May 2, arose mass fights between supporters and opponents of a Maidan. As a result of a fire in The Trade Unions Building about 40 people were lost. City authorities declared three-day mourning for victims of collisions–May 3, 4 and 5.
At the same time, as reports «Duma» with reference to physicians, 214 people asked for medical care as a result of events (213 adults and 1 child) on May 2. 88 people, from them 27 with severe wounds are hospitalized.
In hospitals two—died one from a gunshot wound and one from burns.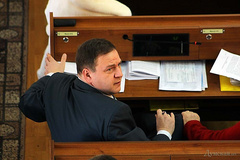 Besides, on Saturday, May 3, in hospital the deputy of the Odessa regional council from Party of Regions Vyacheslav Markin died. About it on the page in «Facebook» I reported the ex-the head of regional council Nikolay Pundik.
According to its data, Markin got a severe wound. Details while are unknown. Vyacheslav Markin supported Putin's supporters on Kulikovo field in Odessa, for what they repeatedly thanked him from a scene during meetings.
As reported in a press - service of the Odessa militia, upon an event it is opened 10 criminal cases on article 294 signs ( «Mass riots» ) articles 115 ( «Premeditated murder» ) articles 345 ( «Threat or violence concerning the law enforcement officer» ) articles 296 ( «Hooliganism» ) articles 341 ( «Capture of the state or public construction constructions» ) articles 194 ( «Deliberate destruction or damage of property» )
At present police officers detained more than 130 persons who actively took part in mass riots.