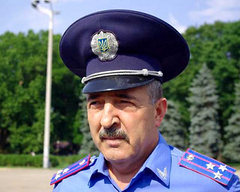 In Odessa it is detained ex-the chief of the Department of the Ministry of Internal Affairs of Odessa region Dmitry Fuchedzhi.
About it «Crime. Is NOT PRESENT» reported reliable sources in GUMVD of Ukraine in Odessa region.
So, according to the interlocutor of the edition, the detention was made by the staff of the Prosecutor General's Office and Security service of Ukraine.
After Fuchedzhi's detention it was delivered in the Seaside District Department of Internal Affairs of the city of Odessa.
We will remind that during collisions the Odessa militia showed passivity, and times and open sympathies to separatists. In particular, on some militiamen there were identification marks of supporters of Putin, also eyewitnesses reported that security officers gave to separatists the boards which those used during collisions.
At the same time, deputy. The public prosecutor Oleg Makhnitsky on Tuesday, May 6, declared that militiamen were accomplices of separatists in Odessa also worked under orders of the administration - the managements of GUMVD of Ukraine in Odessa region.
Besides, it was reported that a certain high-ranking rank of the Odessa militia in day of collisions I gave command to pass to the city the bus with Putin's visiting supporters. In addition, the opinion was expressed that separatists were helped actively by the mentioned Lutsyuk's deputy Dmitry Fuchedzhi who was wounded in time of collisions.
It is known that on May 2, in Odessa there were disorders - having dispersed separatists, inhabitants of Odessa «smoothed out» their camp on Kulikovo field. As a result of collisions, according to the Odessa militia, 46 people were lost.