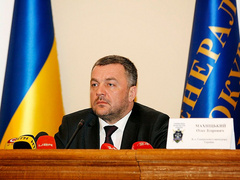 Police officers actually were accomplices of the crimes made by separatists in Odessa on May 2.
It in interview to the 5th channel was declared by the acting as the General prosecutor of Ukraine Oleg Makhnitsky.
- I gave the order about carrying out office investigation concerning the deputy Genprokuror Bonchuk who is now actually detached from fulfillment of duties for the period of carrying out investigation, and also concerning the staff of prosecutor's office in Odessa region. Investigation within which it is established is made that the prosecutor's office has no relation to it. It is established that the head of department of internal affairs of the city of Odessa in coordination with the acting as the head of department of the Ministry of Internal Affairs in Odessa region gave the order. We can speak not only about a divergence, and about partnership, - Makhnitsky declared, making comments on a militia role in events in Odessa on May 2.
Also Makhnitsky noted that separatists and militia carried red bandages that testifies to a deliberate action, besides, during site storm where there were detained separatists, militiamen openly abandoned boards.
- In this case there are all circumstances of a criminal offense, - Makhnitsky emphasized, having added that business took under the control of GPU.
At the same time he didn't begin to make comments in detail on the ignition reason in the Trade Unions Building in Odessa as a result of which about 40 people were lost. According to him, Molotov cocktails were thrown also by separatists from the building that could cause a fire, however that the building lit up from - for actions of their opponents isn't excluded also. Makhnitsky also reported that in investigation can involve foreign experts, including Americans.
Anyway, the head of GPU considers that events in Odessa weren't casual.
- We can say already today that it was the planned action, - he emphasized.