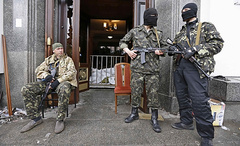 In Lugansk area in the night of May 7 the armed fighters set fire to radar station and robbed business - the center.
The press is told about it - services in the messageMINISTRY OF INTERNAL AFFAIRS in Lugansk area.
«Today about four o'clock in the morning, about 20 persons armed by the automatic weapon, in the masks which have been put on in camouflage clothes drove up to a dislocation of radio engineering office of military unit of Armed forces Ukraine located in 5 km from Sverdlovsk where under the threat of application of firearms set fire to the RLS 35 D-6 radar station which exercised control of crossing of air space» , - it is spoken in the message.
It is noted that victims and victims among the staff of military unit aren't present.
Besides, today at 12:05 in a call center of Stakhanov city department of GUMVD Ukraine in Lugansk area the message that on «arrivedBusiness - the center» , which is located in the Southern residential district, armed attack is made.
«At 11:50 20 people rushed into the building of the center in masks, in camouflage clothes with the automatic weapon. All present ordered to lay down on a floor or the weapon will be used. The armed people took out office equipment from offices and disappeared in the unknown direction» , - it is noted in the message.
At present at a scene works it is investigative - task force.
We will remind, in Lugansk the armed fighters again seized the building regional prosecutor's office.