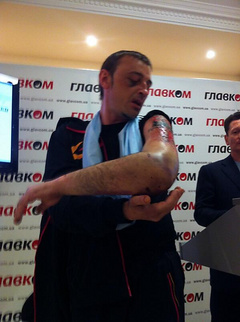 In Donetsk in the taken task of regional administration and regional broadcasting company separatists put tortures on the conveyor.
About it today on a press - conferences in Kiev were told by miners from Novogrodovka Alexander Gurov and Alexander Vovk whom tortured in these buildings, transfer «News of Donbass».
According to them, the former employees of militia participate in tortures. One of torturing had a chevron of special forces «Griffin».
- There the mass of rooms, people shout an inhuman voice, from windows the Russian flag is visible, - Gurov told.
- In a television center very big congestion of fighters, besides Chechens, people of east nationality with the Russian accent, - he added.
Gurov told that the citizen of the Russian Federation participated in his capture–the Chechen on a nationality by the name of Murza. Miners consider that them captured by means of the acting as mayor Novogrodvki who transfers to separatists data on all patriotically adjusted citizens. In their opinion, this person doesn't enjoy authority among citizens and places of deputies and tries to keep at a position due to support of separatists.
In Gurov became interested after he cleaned an organization «flagDonetsk national republic» from the City Council building.
- Local separatists reported. I broke their flag and sent. Presented that we the Right Sector... The management of the city reports on security service of separatists, that there is a group of patriots that the majority of deputies don't support separatists, - Gurov added.
All miners kidnapped in Novogrodovke were beaten and robbed.
- With a cross Chechens broke a chain at once, the ring wasn't removed–cut off, the signet wasn't removed–cut off, sneakers stole, - Gurov told.
The strongest injuries were got by one more kidnapped citizen Konstantin Museyko. It beat with respites. Gurova was put several times to the head by the charged gun and the machine gun.
- Bound in shops at night, threatened to kill, said that I am a traitor, - he told.
Also broken bulb to it tried to cut off a tattoo about an inscription «Glory to Ukraine!». After release miners were compelled is treated in Kiev as in Donetsk didn't feel safe.
- After release Kostya Museyko brought to hospital, on doctors who gave it help there were St.George's Ribbons. It in socks ran away from there, - the head of Independent labor union of miners of Ukraine Mikhail Volynets told.
Also local doctors didn't reveal at affected serious injuries though they broke ribs, noses, jaws.
We will remind, earlier it was reported that in Slavyansk terrorists tried to beat out from the journalist taken hostage recognition that he consists in «Right Sector»