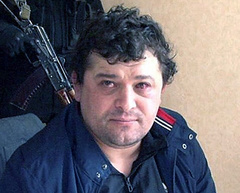 In Nikolaev at the end of the past week the staff of Management on fight against organized crime detained the citizen of Georgia Mindiya Goradze who calls itself «thief in law».
About it «Crime. Is NOT PRESENT» reported reliable sources in Regional Department of the Ministry of Internal Affairs of Ukraine in the Nikolaev area.
So, employees Nikolaev Organized Crime Control Department and fighters of special forces «Falcon» detained Goradze in a sauna «Heat - a bird» , 1-I located down the street the line. During detention Goradze had a meeting with the inhabitant of Nikolaev Igor Naumenko who is known in certain circles as «Naum» and, according to information GUBOP of the Ministry of Internal Affairs of Ukraine, positioned himself as «looking». According to a source, Naumenko and Goradze during a meeting discussed repartition of spheres of influence in Nikolaev after power change in Ukraine.
After Goradze's detention delivered in the international airport of Odessa, from where it deported out of borders of the country– «thief in law» put aboard the plane «Odessa–Istanbul».
We will remind that Mindiya Goradze known as «Lavasogla Batumsky» and crowned in "thieves in law" in 2013, only for the last half a year I was twice it is turned out out of borders of Ukraine. Goradze for three years is forbidden entrance on the territory of our state. We will note that at the end of May of this year of Lavasogla detained the Organized Crime Control Department in Odessa region - Goradze actively influenced a criminogenic situation in the region.
Also we will remind that Igor Naumenko fall of 2012 I was it is detained on suspicion in illegal handling of the weapon. Naumenko repeatedly declared that the weapon to it threw militiamen. Lenin district court of Nikolaev in April, 2013 Naumenko condemned, having appointed it punishment in the form of imprisonment to term of two years. But in one and a half months the Appellate court of the Nikolaev area cancelled a sentence of the first instance and I released Naumenko.