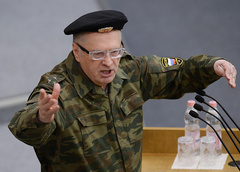 The leader of the party of LDPR Vladimir Zhirinovsky who is actively supporting terrorists «DNR» and «LNR» I accused deputies of the State Duma of a situation that developed in Ukraine, and I urged them to send humanitarian assistance to terrorists.
He declared it during performance from a tribune of the State Duma of the Russian Federation.
During performance Zhirinovsky declared that is dissatisfied with work of legislature of the Russian Federation. It wasn't pleasant to the LDPR leader that deputies discuss plans for summer holiday, while «Ukraine» burns. Further Zhirinovsky called all present at a hall murderers, and that from - for deputies such situation in Ukraine.
- Conscience is no by you, deputies of the State Duma of Russia. It from - for you burns Ukraine. From - for you million victims. It you shot parliament, and now shoot Odessa, Kramatorsk, Donetsk, Lugansk, - Zhirinovsky declared.
- Correctly there was a Maidan, 30% left against our power. We have the same corruption, the same pack of swindlers, - the LDPR leader added.
Also Zhirinovsky called opening border of Russia and the Luhansk region and to send to Ukraine Chechens and Cossacks to the aid of terrorists. Besides he demanded from deputies of the State Duma that those bullet-proof vests and drugs sponsored terrorists on Donbass.
- At us is «Chechen security companies» , here they are ready to go there to bring an order. They are able to do it well. Also is «Cossack security companies». They all life waved a lash and a saber. Here please Donetsk, Lugansk and all Hugo - the East of Ukraine who prevents them to wave there? I suggest to open border with Russia and with the Luhansk region. The Ukrainian frontier guards there are removed and let volunteers go and help. Echelons with drugs have to go, with medicines and with bullet-proof vests. Americans give bullet-proof vests «to fascists» in Kiev, and Russians can't give the bullet-proof vests. Shame!–Zhirinovsky declared.
It is known that Zhirinovsky in the State Duma accepted one of leaders terrorist organization «Donetsk People's Republic» Denis Pushilin also I promised to help terrorists «volunteers».
We will remind that Zhirinovsky I gave to terrorists of "LNR" the personal armored car «Tiger» , which with fight broke through the Ukrainian border.