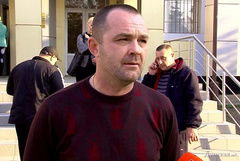 One of leaders of Donetsk fighters «Matchmaker» I assumed responsibility for attack of the Ukrainian boundary boats in the Sea of Azov.
About it in the «Twitter» the Irish journalist Daniel McLaughlin wrote.
So, according to McLaughlin, the fighter «Matchmaker» now is in the Ukrainian city of Novoazovsk seized by the Russian army. «Matchmaker» claims that his terrorists struck blow to frontier boats from the anti-tank weapon.
As notes the edition «Duma» , judging by the photo, under a nickname «Matchmaker» the deputy of the Odessa regional council disappears from party «Homeland» and interim leader of this political force Vadim Savenko.
Earlier it was reported that Savenko, the colleague ex-the People's Deputy Igor Markov, is in ranks of terrorist armed groups in the east of Ukraine.
"Svat", chief of rebel unit in #Novoazovsk, says his men hit #Ukraine border guard ship w anti-tank rocket today. pic.twitter.com/GhMQIA4eAx

—Dan McLaughlin (@DanMcL99) On August 31, 2014
We will remind, before a case of the Mariupol group of sea protection «Signature stamp» and «Kalkan» were fired from unknown complexes of operated arms when were in three nautical miles from the coast, near the settlement of Bezimennoye of Donetsk region. It occurred in the second half of day on August 31.
As a result of attack boat «Signature stamp» , which the senior lieutenant Dmitry Petukhov from Odessa ordered, lit up and sank. Sea frontier guards organized a rescue operation and pulled out from water of 8 seamen seven from which got wounds and burns. Wounded transported at first to Mariupol, and then to Odessa.
Commander «Signature stamp» and one of members of his team in–the sailor - the signaller Bogdan Tishchenko were missing. Their searches proceed.
Vadim Savenko–lieutenant colonel reserved officer. In due time I served in the 3rd separate regiment of a special purpose. Last position–the commander 188-го it is command - prospecting point, from where he left approximately in 2005.