The consequence has enough bases and proofs, that the director of the Nikolaev Palace of culture «Youth» Yulia Zakharova and her deputy Lyudmila Rozenblyum who were caught «yesterdayon hot» at taking of a bribe, were punished by a court decision.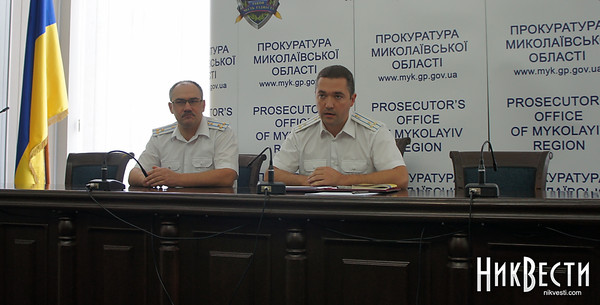 It on Wednesday, September 17, during a briefing was declared by the prosecutor of Nikolaev Yury Paly, transfer «Nikvesti».
So, the prosecutor's office of the city already coordinated suspicion which will be taken out the detainee.
- It is established that the director and the deputy of this establishment, working intentionally by previous concert, from mercenary motives demanded from the natural person…Owing to, yesterday «on hot» carried out fixing of date of transmission of money and detained the director and the deputy. During a pretrial investigation also secret investigative actions were used, - he noted.
The briefing was preceded by a protest action under walls of regional prosecutor's office–about 150 representatives of creative collectives of Nikolaev, nearly a half of them–children, demanded to release Yulia Zakharova and her deputy. Picketers chanted: «Freedom to the Spinning top» , «We want to dance» , sang the Anthem of Ukraine, a song of group «Elza's ocean» , and also danced. In hands of protesters there were about 30 posters: «Huge contribution to cultural development of our city» , «Release Lyudmila Sergeyevna» , «We for justice» , «Freedom to our teacher» , «It only two women» , «There is no Yulya–there is no culture» and other.
Protesters told that are sure of innocence of detainees, as «it can't simply be, Yulya quite sufficient person that to be engaged in such muck, it has two children and the smart husband, it has a fine family, it has everything». The prosecutor of the city Yury Paly called these actions pressure upon justice.
- Meetings won't influence actions of the investigator and procedural head in criminal proceedings.If they proceed in court, it can be regarded, as pressure upon judicial bodies,–Paly summarized.
Besides, he added that the state charge of court will demand «fair measure of restraint for both detainees».
Earlier it was reported that Zakharova was detained on September 16 at taking of a bribe. The director demanded and received five thousand hryvnias from the businessman for granting part of rooms in recreation center in rent. Together with Zakharova law enforcement authorities detained also her deputy Lyudmila Rozenblyum. In the evening on September 16 group of protesters I picketed the building of Factory regional department of militia, demanding to release Zakharova and Rozenblyum.