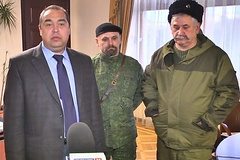 In Lugansk there took place the meeting of leaders of terrorists therefore they declared about «unity» and lack of disagreements among different groups of the fighters who are active on Donbass.
Part in a meeting was taken the head of terrorists «LNR» Igor Plotnitsky, commander of a battalion «Ghost» Alexey Mozgovoy and ataman so-called «Don Cossacks» Nikolay Kozitsyn.
Carpenter's, Kozitsyn and Brain declared that reached the agreement on many controversial issues, in particular concerning support illegal «elections» , planned for November 2.
The final purpose of fighters, according to them, is fight continuation, that «to reach the purpose, that is Kiev».
It is known that earlier in the Luhansk region the opposition aggravation between groups of fighters from among local terrorists and Cossacks was recorded «Vseveliky Army of Donskoy of the Russian Federation» ataman Kozitsyn.
In particular, in October fighters from number Russian the Cossack organizations declared creation separate, uncontrollable «LNR» , «republics» on the basis of a number of settlements of the Luhansk region.
Also it was reported that between local fighters and «Cossacks» Kozitsyna doesn't cease fight for control over posts on Debaltsevo Highway - Anthracite.
We will remind, the leader of terrorists «Donetsk People's Republic» Alexander Zakharchenko I declared the termination of a truce on Donbass. However after Zakharchenko disproved the words.