For Easter, on April 19, in the cityNikolaev,in the apartment which is located in one of houses down the street Galina Petrova, with knife wounds of a neck, a back and a stomach the corpse 65 - the summer pensioner was found. As it became clear later, his own son appeared the murderer.
After death of mother the father with the son lived together any more the first year. 33- summer Andrey was about a year the unemployed therefore the pension of the father was the main income of a family. Andrey several times tried to find to himself work, but with employment why - that didn't develop, here he and decided to take the free time with Bible studying. Job searches faded at once into the background, visit of church and studying of precepts became the main occupation.
Rather quiet and balanced guy never quarreled with the father, always tried to help. But recently the father started reproaching him that it can't find to itself(himself) work in any way.
In the holiday, after a dinner, the father returned from a drugstore. Andrey was at home. Having seen as to the father it is heavy, the son made him the remark that that goes itself behind drugs. "You have a son who always will help you", - the guy of the pensioner taught.
The old man paid attention to words of the son a little, and often answered it that better that would find to itself(himself) work. So occurred and this time.
"You better to the robot to yourself would find, instead of of the Bible became engrossed in reading", - sounded from lips of the pensioner.
Revolted with such answer of the father, the son silently I left the apartment and I went to church. In church it prayed, bought two icons and came back home. Reports TsOS Regional Department of the Ministry of Internal Affairs of Ukraine in the Nikolaev area.
Having come home, the guy saw the sleeping father, came on kitchen, took a knife from a table and returned to a bedroom.
Holding in one hand of the icon, the second hand it started striking ruthlessly to the old man blows with a knife, thus repeating any words read in the Bible.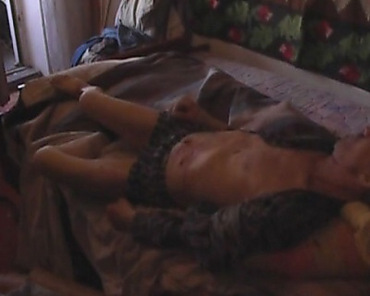 The pensioner long didn't suffer, the death came almost instantly.The son put to the father of 28 getting knife wounds, forensic scientists who arrived to a scene together with the staff of the Factory District Department of Internal Affairs and the ambulance which was called, by the way, by the murderer reported about it.