Director general of the enterprise"Sandora" Neil StarrokI had an accident, coming back from business trip from the Crimea to Nikolaev. Three people died in this terrible accident.
On April 18 at 7 o'clock in the morning on 70 - poor visibility was m of km of the highway "Kherson — Jankoi — Feodosiya — Kerch" from - for raised fogs."Mercedes"With - a classNeil Starrok, citizenGreat Britain, I made overtaking in the area пгт Kolonchak of the Kherson area and I met the passer head-onVAZ-2108. Driver and one passenger VAZwere loston a scene, other passengerI diedin reanimation, one more passenger of "eight" with numerous changes is in hospital. Rescuers had to take victims by means of special equipmentMINISTRY OF EMERGENCY SITUATIONS.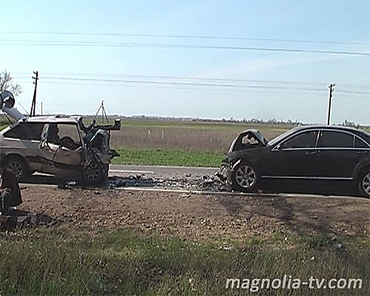 General director"Sandora",thanks to the increased safety of the car, I received only a fracture of the leg, and 28 - the summer driver of this "Mercedes" and the deputy director (also subjectGreat Britain) got offbruisesbacks.
Upon incident criminal case is brought, the staff of GAI makes investigation and finds out who is guilty in incident.
Reference "Crime. Is NOT PRESENT":
Company"Sandora"it is created in 1995 and here for 13 years is the leader of the domestic market of juice. According to independent researches on a share of sales of the company"Sandora"about 47% of all volumes of retails of juice, nectars and drinks in Ukraine are necessary.
Capacities of our company include industrial complex No. 1 on processing and production of juice production to the village of Nikolevskoye of the Nikolaev area, two seasonal plants on processing of vegetables and fruit in the Kherson area and to the Crimea, and also industrial complex No. 2 on production in the village of Meshkovo - Pogorelovo of the Nikolaev area. Design cumulative capacity of the enterprises - about 1,5 billion packages of juice and juice production in a year. General daily productivity of the company"Sandora"makes more than four million packages. Companystaffmore than 3,5 thousandperson.
Today"Sandora"is the leading producer of juice and nectars. It is result of innovative development of the company, improvement of productions, development of new types of products, and also uses of advanced technologies.
In 2007 AmericanPepsiAmericasandPepsiCogot shares in authorized capitalJSC Sandora.
On June 7, 2007 it became known thatPepsiAmericasandPepsiCoconcluded the agreement on joint purchase of 80%JSC Sandorafor 542 million dollars