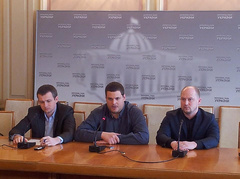 In an office of the deputy minister of internal affairs Sergey Chebotar at a search law enforcement agencies found gold ingots, and also documents - "black accounts department" who allegedly confirm its corruption activity.
The People's Deputy of fraction «reported about it on the page in a social network of FacebookPetro Poroshenko's block» Sergey Kaplin.
«During a search in an office of the deputy AvakovSergey Chebotarfound documents which confirm corruption schemes in the Ministry of Internal Affairs, all regional managements, central office. Also found gold ingots and jewelry in its office» ,–Kaplin told.
It and two people's deputies from «Freedoms» Andrey Ilyenko and Yury Levchenko call GPU and SBU to take the appropriate measures.
«Why Chebotar who surpassed in scales of corruption of all a pshenok, zakharchenok and klimenok, still not in prison?! We demand the report on what investigative actions happened in Chebotar's office and the list of everything that there found» ,–the people's deputy noted.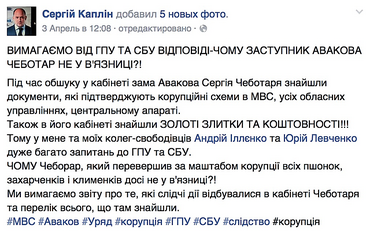 In addition, Kaplin claims that he has still a set of information which proves illegal activity of Sergey Chebotar.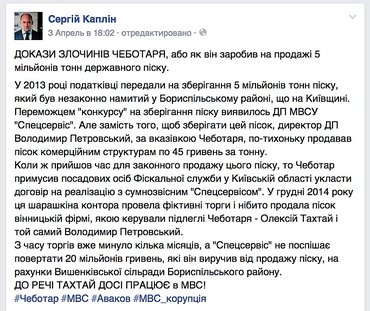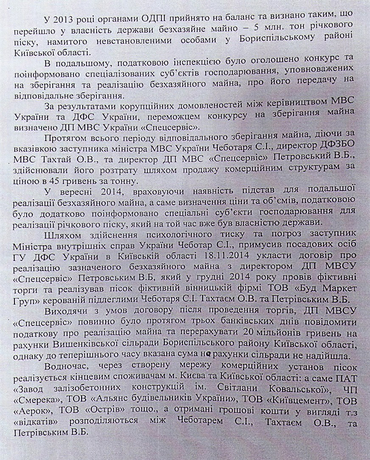 We will remind, earlier it was reported how SBU «I appeared suddenly» in the Ministry of Internal Affairs of Ukraine with searches.
It is known that Sergey Chebotar is Oleksandr Turchynov's person. Chebotar became deputy minister after department was headed by Arsen Avakov in February, 2014.
We will remind as earlier it was reported, the deputy minister of internal affairs of Ukraine Sergey Chebotar was accused repeatedly of corruption and demanded from Arsen Avakov to dismiss him. In particular, the People's Deputy of Ukraine Nikolay Tomenko addressed in That checked the Prosecutor General's Office Chebotar on participation in sale of positions in structure of the Ministry of Internal Affairs of Ukraine and its regional bodies. However, prosecutor's office I decided not to open of criminal proceedings and not to check his activity for Chebotar.
On the eve of Avakov's appointment as the Minister of Internal Affairs for the second time in December, 2014 the head of fraction of party «Blok Petro Poroshenko» Yury Lutsenko demanded from it to dismiss Chebotar from the deputy minister's position, on what Avakov I declared that isn't going to dismiss him.