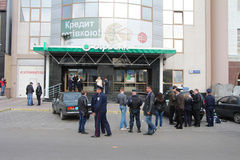 The money stolen yesterday by the armed malefactors at the building of OTR - bank, belongs ex-to the regional, the deputy of the Nikolaev regional council, the businessman Rostislav Danilchenko.
About it «Crime. Is NOT PRESENT» reported the sources approached to the deputy. Also, this information was confirmed, informally, also by law enforcement authorities.
We will remind, earlier it was reported that in Nikolaev unknown at the exit from bank hit the woman and her security guard, having taken away from them a bag with millions of hryvnias.
Rostislav Danilchenko

«Funds which were stolen by unknown yesterday in the center of Nikolaev, belonged to the deputy of regional council Rostislav Danilchenko who is engaged in agricultural business. The injured woman at whom malefactors shot, is the accountant of the enterprise. All necessary applications to the militia are already written» , - the interlocutor of the edition told.
According to him, the stolen sum slightly exceeds four million hryvnias.
We will remind, earlier it was reported how in February, 2014 at Rostislav Danilchenko stole «Toyota Land Cruiser».
Before in November, 2013 another it car «Mercedes S500» fired unknown.
It is remarkable, as in 2010 stole the large sum of cash from Danilchenko - 500 thousand hryvnias. As it was reported, the deputy received this money in office «Meta - bank» on Komsomolskaya Street (behind parking of a megamarket «Southern Bug» ). As soon as he went outside and approached the «Mitsubishi Galant» , from parked opposite to old «Volkswagen Golf» jumped out two one of which was armed - allegedly, a sawn-off shotgun. Attacking jumped up to the businessman with shout: «Throw a bag!». For a persuasiveness dense forest armed with a sawn-off shotgun I shot at a wheel «Mitsubishi» , then the businessman threw a bag. Having picked up production, attacking jumped in «Golf» also disappeared.
We will remind, yesterday, after commission of assault of m the ilition declared the plan «Interception» in Nikolaev, but so far it wasn't succeeded to detain malefactors.