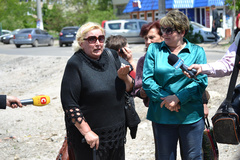 In Nikolaev relatives of the dead during explosion on Lazurnaya Street, 40 Yury Alfimov don't trust the version of law enforcement authorities about suicide of the man.
About it journalists were told by mother of the lost Yury Alfimov Natalya and Anna Novchuk - mother of the girl Ekaterina Ishchenko who was lost on a 1-m floor on Tuesday, May 12, on a place of the tragedy, which occurred a year ago.
We will remind, the Prosecutor's office of the Nikolaev area finished pre-judicial investigation upon explosion of household gas in a multystoried house down the street Azure, 40 in Nikolaev–law enforcement authorities recognized suicide of one of residents of the house in the incident—Yury Alfimov who damaged system of gas supply in own apartment that led to explosion.
Case is now considered in Factory district court of the city of Nikolaev. According to Yury Alfimov's mother, the court for the unclear reasons doesn't interrogate witnesses on business who want to give evidences.
- Prosecutors change... Any of witnesses wasn't called the agenda. I rang round his friends who went on business and asked that they came to court. But nobody was invited, not caused. Unless it not absurdity? - the woman speaks.
Besides, according to her, examination in lungs of her son not of gas didn't find is testifies that Yury didn't try to kill himself, having started up gas to the apartment. Thus, Natalya notes that the kitchen in Alfimov' apartment remained safe therefore in any way it is impossible to call this place the explosion center.
- I lost the only son. I will wish nobody this hell which I live. I had a successful child, positive, good. The reasons in of what he is accused, any it wasn't absolute. We were going to sell our apartment and to buy the house. Anybody doesn't hear me. Went on the easiest way - accused my child who didn't do it, - quotes words of mother of the dead the edition of News - N.
At the same time, relatives of other dead, in particular Anna Novchuk don't trust in the version of suicide also, whose the daughter was lost under blockages on a 1-m floor of the house.
- I beg you, help to understand, where the truth in this world! For what this child was lost? For what? I don't trust in this version! This version silly. Here Yura's mother came, we just were with her on graves of our children, they are buried by a row. It is nonsense full who speaks. Anybody simply doesn't want this truth! Top don't want this truth, - the woman speaks.
We will add that the survived Yury's spouse Irina Alfimova initially confirmed the version about suicide: according to its first indications, it, having come home, I couldn't get to the apartment as her husband was locked from within, however how it managed to enter the dwelling, she guessed a gas smell, ran on kitchen where saw open all four rings on the gas stove. After it blocked gas as she spoke, there was an explosion. Meanwhile, Alfimov' friends declared that there was at their place a modern gas surface and a gas oven which had function gas - control with automatic blocking of supply of gas in some seconds if the ring wasn't lit. Two weeks later and Irina I changed the indications concerning causes of explosions, than completely I disproved the main version of the investigation about suicide of her spouse.