Yesterday known Kiev "authority" died in road accident Vladimir Kisel.
Vladimir Karpovich Kisel, 1946 year of birth, the nickname "Grandfather", "Kissel", "Karpovich" - the former athlete, the master of sports in Greco-Roman wrestling. It is clever, judicious, balanced, it isn't inclined to impulsive acts. Has broad communications in power ministries and administrative structures of Ukraine.
Now the leader of one of the most numerous and influential organized criminal groups, had every chance to hold a post official мафиозо No. 1 and to be legalized. It gradually started entering policy, was elected the deputy of native Moscow regional council, actively patronaged, built churches, even declared intention to become the monk. By the way, he made this statement in teleinterview on the eve of Georgy Gongadze's disappearance. And then persistent hearings that the organized criminal group of Kissel has a direct bearing on murder of the journalist began to creep. And when over time noise round the person Kisel began to cease, in the spring of 2003 suddenly killed one of cofounders of the new luxurious entertaining center "Mandarin" Mikhail Franchuk. The suspicion fell on the son Kisel, at which to all other big problems with drugs. That moved "in races".
Kissel fine handed over today it is rumored that it transferred a heart attack. It was legalized, I bought up real estate on Krasnoarmeyskaya Street. One of known restaurants of Kiev - "Eureka" is registered for the son, it consists in founders of bowling - Mirazh club, recently in the center of Kiev they opened a luxurious pizzeria.
Interests of "Grandfather" are infringed also by very serious spheres of the Ukrainian economy in almost all regions of Ukraine. Among them - metal, it is mountain - concentrating combines, the international automobile transport, smuggling of cars, a services sector, entertaining and a gaming and many other things.
A half of present successful Ukrainian businessmen, many of which today are People's Deputies of Ukraine, in the past were under Kissel "roof". Many present Ukrainian politicians and businessmen literally stood in a queue to testify the respect to "Kissel" and to bring "share". The secret of survivability of "Grandfather" and his business is that it, unlike former "colleagues" it didn't peel wards of businessmen as "липку", and allowed them to develop.
"Grandfather" surprisingly везуч also is resourceful. For all history of independent Ukraine the Organized Crime Control Department didn't manage to show to Kissel or its son any serious charge. The case when in the middle of 1990 in Kiev, on Druzhby Avenue of the people "Golden eagle" detained the car with the whole arsenal of the weapon is remembered. At a wheel of the car there was a son of "Grandfather" - Vadim Kisel. However, business on the unclear reasons by itself resolved. Long time the Mir hotel while once the Organized Crime Control Department didn't detain there about eighty members of group was main "office" of an organized criminal group of Kissel.
Such figures grew from the "Kissel" nest in independent leaders of an organized criminal group as:

Tkachenko Igor Anatolyevich, 1964 year of birth - the nickname "Skull";

Kononenko Yury Nikolaevich, - the nickname "Konon";

Balabkin Sergey Borisovich, 1963 year of birth - the nickname "Balaban";

Geshelin Alexander Naumovich, 1967 year of birth - the nicknames "Gesha", "Kindrat", "Moustached" (I died of cirrhosis);

Seltov Nikolay Nikolaevich, 1966 year of birth - the nickname "Black" (I was missing);

Stashchenko Sergey Afanasyevich, 1963 year of birth - the nickname "Stas";

Oleynikov Sergey Mikhaylovich, 1961 year of birth - the nickname "Deer".

The list can be expanded considerably.
However, periodically and "Grandfather" had serious troubles.
Last year in Ukraine was it is excited a number of criminal cases upon failure to pay taxes and frauds on securities market. In particular on MS firms - the CAPITAL, SISh - INVESTMENT. These firms with an authorized capital less than 1500 US dollars redeemed JSC Nikolaev Aluminous Plant shares for the sum more than 30 million US dollars everyone. Later these actions were sold under the nominal holder of ING-UKRAINE BANK to firms to founders of JSC RUSSKY ALLYUMINY. The remained actions of 100 pieces on each firm were sold to the director general of JSC NGZ Ovchinnikov Yu.G. Then liquidation of the above firms was begun. Conductings on operations with securities of JSC NGZ made over 1 million actions. During investigative actions of SBU of Ukraine information on participation of structures of Oleg Deripaska to a number of illegal acts in the territory of Ukraine was received. In particular to participation of a number of staff of the company BAZEL KONTINENTAL INVESTMENT - Gorodnichenko's misters, Summer, Korabelshchikova and Dzoz to contacts with leaders of a number of an organized criminal group, in particular an organized criminal group of Kissel and Hitler's organized criminal group. However, meanwhile business "was frozen".
Happened at Karpovich and other troubles. In November of last year the jeep of "Grandfather" was blown up on Street "Reytarskaya", exactly opposite to a known "esbeushny" appearance - Dveri cafe. Karpovich got off light, but in the city many said that other authoritative person - "Spot" ordered "Grandfather". So it or not so, Valery Ivanovich, as we know, never will be able already to confirm.
It is interesting that after explosion of a Kiselevsk jeep the deputy minister of internal affairs Pyotr Opanasenko declared that "for today on the account in Kiev there are two operating organized criminal groups - "Kissel" ("Grandfather") and "Spot". However, according to him, in recent years these groups didn't commit crimes.
At the same time on a press - I emphasized conferences of the deputy minister that V. Kiselya it is impossible to call the criminal as "the criminal calls the person only court".
In 1990-x years in Kiev, according to militia, among the most known Kiev organized criminal groups which are already struck off the register of Head department on fight against the organized crime, were - groups "Avdysheva", "Savlokhova", "Tatar", "Skulls", "Moscow".
Nowadays Vladimir Karpovich - the deputy of Goloseevsky regional council, the president of Federation Greco - the Roman fight of Ukraine both other, and other, and other.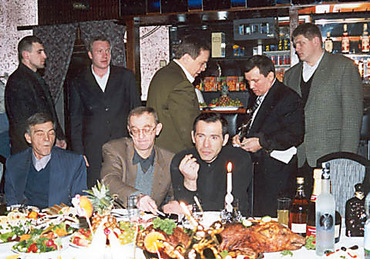 In a picture published by us - a "family" holiday of "Grandfather". In the foreground extreme on the right - one of foremen of Kissel - Tripolsky Gennady Lvovich, 1961 year of birth, the nickname "Gesha". On a background - to "Grandfather" hand over an antiquarian saber of Damask steel.
"Ukraine criminal"