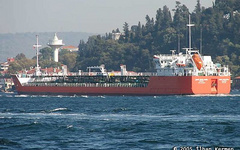 The state frontier service continues to trace vessels which could come into ports in temporarily occupied territory or be engaged in illegal activity both in the territorial sea, and in the Exclusive (sea) economic zone of Ukraine.
Reports a resource about it Blackseanews.
So, on these days off the Odessa group of sea protection received operational information about suspicious transport courts which are defended near the Tendrovsky braid with the switched-off identification devices, writes Kherson Online.
Therefore for the purpose of check to the location of courts one of boats of sea protection with strengthened obzorno - assault group of department of special actions on water moved forward.
Frontier guards established that in limits терморя there is Ukrainian to the naftonaliyena a vessel Katran loaded with diesel fuel which is served by crew from 4 citizens of Ukraine. The captain of the vessel explained shutdown of identification devices of communication to that the system failed already more than a month ago. Ship documentation isn't kept long term, according to the captain, he makes necessary entries in own draft copies. All these facts can testify to attempt to suppress the fact of calling the closed ports of the Crimea.
According to system AIS, Katran I came into Kerch port on April 17, 2015. At distance of 13 miles from the Katran motor ship, but already beyond a border of territorial waters of Ukraine, the boat of Sea protection found ALIOT tow (a flag Belize) which periodically I switched-off devices of identification of courts for rather long time that didn't allow to trace its route.
When the osmotrovy group of sea protection landed aboard a tow and conducted survey of team of the vessel and learned ship documentation, it became clear that the vessel came into the closed Kerch port in June, 2015, and now is defended waiting for the order of the shipowner. These data are confirmed by AIS system according to which, the tow visited Kerch port on June 8, 2015.
Frontier guards documented all facts and reported on competence to the Kherson boundary group and to administration of the next port of Ochakov for adoption of the legal decision.
We will remind, earlier Ukrainian authorities detained for violation of the mode the occupied territory and the sovereignty of Ukraine the Russian Dahi Byul Byul tanker which came into the liquidated seaport in the territory of the Crimea.