Freedom of speech - one of the main principles for the entry of Ukraine into the European Union. Considering it, Ukraine, probably, also will enter EU, but only the Nikolaev area leave a separate piece to roll at borders of Europe. And the merit of such prospect belongs to the governor of the Nikolaev areaTo Alexey Garkushe, and also to its main board, protecting from chain dogs of democracy, -To Yury Tikhom, to the head a press - regional state administration services. Very much I took a dislike to a press - service and specifically g - NSilentedition"Crime. Is NOT PRESENT". And "nevzlyublennost" shows at each opportunity. Why - that usYury Ivanovichnot only doesn't invite on a body - a press - conferences of the governor, but even when ourselves come, simply forbids to let on a threshold. Thus itselfYury Ivanovich Tikhyat this time is in holiday. So an official complaint can't be made to it. And the head a press - services competently "dodged": "You after all not the newspaper, and the Internet - editions we don't invite".
Yury Ivanovich, you not don't invite us and you expose, and our readers. It you show them the "фе" and you deprive of the right to learn that actually occurs in state walls. But you invite loyal to you and administration in whole journalists, especially employees of municipal newspapers and television. They after all won't tell the readers as actually heads of area decide their destiny. Yes, we don't dare to sing the praises of the top officials of area and poetically to give short weight noodles ears of our readers. Yes, we are chain dogs of democracy. Yes, we don't say that we love you. Also shouldn't. But so frankly to declare that"Crime. Is NOT PRESENT"- objectionable edition...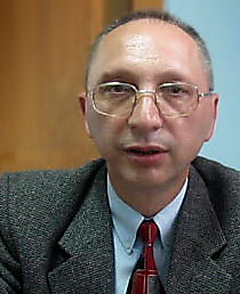 Yury Tikhy - the head a press - services Nikolaev YEAH
Explaining not invitation us on a body - a press - conference, Yury Ivanovich managed "to blurt out" that the certificate on registration of our edition is cancelled.
Here so,Yury Tikhyin a flash can cancel the certificate granted by justice department, and next day declare that he not meant that.
Without letting journalists on official a press - conference which, by the way, took place in the territory of the state broadcasting company, employees a press - services YEAH - civil servants - violated practically all acts regulating activity of journalists.
And when our correspondent asked a question concerning current situation personally to the governor, this fact very much revolted representatives a press - services.
As so! Pier who allowed to ask questions to the governor in not put place and in not put time? And when to set? You select such opportunity, breaking, including, the Criminal code of Ukraine.
Yury Ivanovich, we understand that to a freedom of speech and you, and the majority of local officials it is necessary to learn and learn still, but we won't be too lazy to do it. In the developed countries and in the same Poland, journalists dare to call in the middle of night to the high-ranking official by the mobile phone and to ask all interesting questions. And God forbid to the official to ignore a call of the journalist. Because already next day the people will demand to dismiss such servant of the people. But, as we already agreed, the Nikolaev area to Europe after all doesn't aspire. We after all will remain to live in a mode of councils. Therefore at us it is incorrect to ask questions to the governor when don't ask, especially, questions which he doesn't expect.
When conversation during which the governor asked to bring an order in a press - service, employees of that a press came - services at once changed countenance. Alexey Nikolaevich, naturally promised to understand, but in it is poorly trusted. Because a similar case of preventing of professional activity of the journalist (by the way, witht. 171 Criminal Code of Ukraine, it is punished by a penalty or arrest for a period of up to six months or freedom restriction for a period of up to three years) far not the first. And, so and punishment has to be the most strict, after all similar incidents happen to an enviable regularity and not only with"Crime. Is NOT PRESENT".
Read also:
As a press - the secretary Nikolayevskoy YEAH Silent didn't let the journalist on visit to the President
To that the press - service serves?
At a main entrance
Why Garkusha periodically washes herself in the press