To Zakarpatye in Dragovo's village locals to whom extortioners in shoulder straps cloyed, turned the militia car with employees of GAI. It was necessary to resort to violence because consider - the truth on their party. National avengers relied on muscles, but didn't secure itself papers and never complained of racket in shoulder straps. Now on their party all village, and here the Criminal Code - against. Visited regional department almost half-villages, there are also prisoners.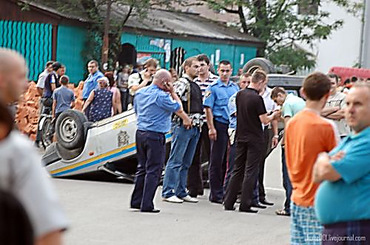 Video with a turning of the car of GAI which was finished shooting by peasants, - the most powerful proof in criminal case. Took years on five imprisonments.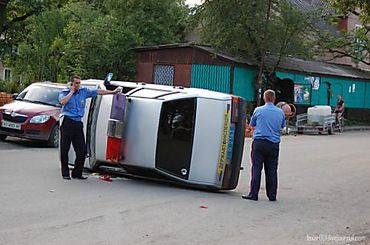 According to Hustsky interdistrict prosecutor's office, against peasants brought criminal case upon intervention in activity of police officers, threats of violence and property destruction - the official car.
And here against extortioners - any proofs. Their villagers why - that didn't finish shooting, the application for extortion of bribes too didn't write. But say that gave them for years. Mainly - for the unregistered cars acquired abroad. Citizens say that with caught on such car demanded a bribe of 200-300 dollars in size.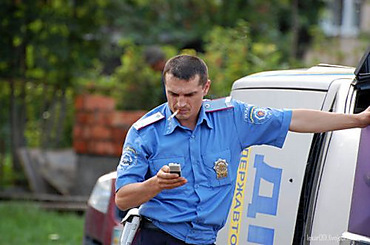 "We have in the village no so much money that there was an equipment lawful, there are trailers unregistered... And what, unless all of them lawfully do? " - the inhabitant of the village Dragovo is indignant.
In militia confirm that the problem of unregistered cars exists: from the village many people on earnings in the Czech Republic, buy there cars cheap, bring and drive about on them on the village without registration.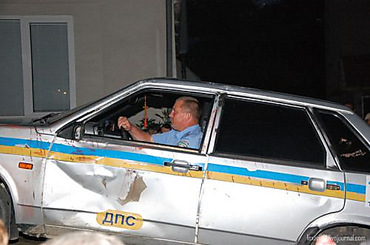 After incident militiamen arranged the real witch-hunt in Dragovom. The armed dresses stopped all cars, interrogated passersby, searched houses. It not terror, and lawful special operation, speak guards. And that people hold a meeting and accuse them is a way to avoid responsibility.
"All persons who were on a scene, interrogated. There were people who it is malicious militias didn't obey, normative documents were made, the court made the decision which still isn't appealed", - the head of Hustsky regional department of militia Andrey Lavrishin tells.
People say that then in a site took away some tens people. For seven days arrested eight, ten more got off with a penalty. All wives of detainees say that their husbands beat. The application in prosecutor's office was written while only by one.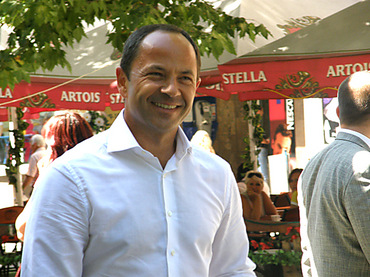 Still eight peasants are under arrest. Guards identified five of them on video among those who overturned the militia car.