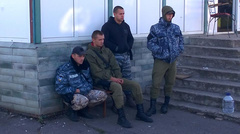 In a zone of Anti-terrorist operation on the night of September 17 the special troops detained group of the Dnepropetrovsk militiamen from former «Golden eagle» , which with flashers tried to transport the truck loaded with meat on occupied российско - terrorist troops the territory.
About it in the «Facebook» the volunteer, the member of group on fight against smuggling Rodion Shovkoshitny wrote.
«Caught the truck with meat which is stolen on that party. Accompanied–in white «techik» with flashers– «cops». Dnepropetrovsk «Golden eagle». Today had to leave on rotation. Decided to leave on the rich. Dragged the truck in Verkhnetoretskoye from Ocheretyany. Were caught» , - the volunteer writes.
He notes that to understand a situation, «to solve» there arrived the commander «golden eagles» , but it didn't manage to relieve the subordinates of responsibility. As a result of it together with militiamen - smugglers brought to prosecutor's office of Kramatorsk.
«The prosecutor called. Communication was awful and if correctly I understood–Donetsk region: «Zhebrivsky (governor of Donetsk region–PN) asked you to gather. The car arrested. Ours work. Long ago they were conducted, thanks. «Golden eagle» won't jump aside» , - Shovkoshitny tells.
Also, according to him, on marauding caught the officer of SBU–the lieutenant plundered the blown-up railway bridge:
«Yesterday detained the lieutenant of SBU. Not local, from Kiev. I piz*it rails on the blown-up bridge near Novobakhmutovka. The car detained and dragged away to Kramatorsk».
We will remind, The SBU detained Kharkov «golden eagles» , which «protected» drug trafficking in Slavyansk