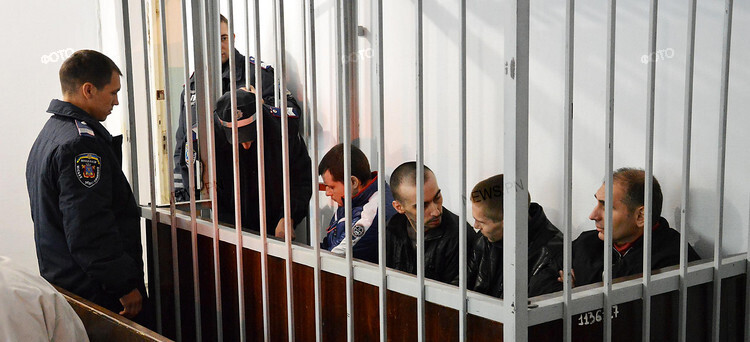 The judge of the Central district court of the city of Nikolaev Andrey Rudyak paid for murder of the stepmother Tatyana Rudyak to three performers of murder 6 thousand 500 dollars and a gold bracelet.
It on Tuesday, October 13, during court session in Leninsk district court of Nikolaev on consideration of criminal proceedings concerning Sergey Rudyak, Vladimir Krasnoshchek, Vitaly Primakov and Vitaly Gnatenko was declared by the prosecutor representing the state charge.
So, the jury, at last, started considering case in fact: the prosecutor's office started an indictment zachteniye.
According to this document, the judge Andrey Rudyak and his brother lawyer Sergey Rudyak planned murder of the stepmother for some months before it made. Andrey Rudyak, knowing that his informally issued driver Vitaly Primakov is previously convicted, asked it to find to it the performer for murder Tatyana Rudyak, having told it that it has with her a conflict against the section of ex-inheritance - the head of Factory district court of Nikolaev Alexander Rudyak.
Primakov contacted the companion Vitaly Gnatenko with whom they together served sentence in the Arbuzinsky colony, and suggested it to kill Tatyana Rudyak for 5 thousand dollars - for it the judge Andrey Rudyak promised so much. Gnatenko agreed and arrived from Vinnytsia region to Nikolaev where started watching Tatyana to study her way of life and a daily routine - all its data where it works and as looks, he was told by Andrey Rudyak.
However, after Vitaly Gnatenko as the prosecutor claims, I understood that won't be able to execute itself murder, and Rudyakov decided to deceive brothers. So, having met Sergey Rudyak in hospital number 4 of the city of Nikolaev, Gnatenko told him that is going to execute the other day the order, for what demanded money. Sergey addressed to the brother, the judge Andrey Rudyak, but that gave it only 3 thousand dollars as more at that time at it wasn't. Gnatenko took this money, in some days Rudyakam called, having told that killed Tatyana then went home to Vinnytsia region.
Having learned that Tatyana is living, Rudyaki demanded from Primakov to find Gnatenko and to force it to finish business. Besides Andrey Rudyak suggested the driver Primakov to take part also performed by murder for a reward.
Gnatenko was brought to Nikolaev then they already together with Primakov continued shadowing Tatyana Rudyak. Further Primakov involved in this business of the resident of Dnepropetrovsk Vladimir Krasnoshchek who sat in one prison together with them. Andrey Rudyak promised it 2 thousand dollars. At this time customers and performers it was decided to commit except murder and assault against Tatyana with the purpose to take control of its property. It was entrusted to kill Tatyana to Vitaly Gnatenko, for what over Rudyaki's money promised it gold which they will take away from Tatyana.
As a result the judge Andrey Rudyak paid for murder which was committed in the house, disputed with Tatyana, Rudyakov in the settlement of Radsad, to Vitaly Gnatenko and Vitaly Primakov 1,5 thousand dollars (1000 dollars of Gnatenko took itself, and 500 I gave Primakova), and to Vladimir Krasnoshchek 2 thousand dollars, apart from those 3 thousand dollars paid earlier to Vitaly Gnatenko.
After Tatyana was killed, Primakov and Krasnoshchek removed a gold chain, a bracelet, hours and ear rings which as scrap put in a pawnshop in the city of Dnepropetrovsk from her body, having received for it 4 thousand hryvnias. However by agreement this jewelry had to get to Vitaly Gnatenko who arrived on August 18, 2014 to Nikolaev to find out, where its gold. Having learned that it is already realized by his accomplices, and money is spent, he addressed to the judge Andrey Rudyak with the requirement to pay it promised. On what Rudyak gave it a gold bracelet, worth more than 30 thousand hryvnias. Gnatenko pawned it in Nikolaev on Dzerzhinsky Street, 51 having received for it 14 thousand hryvnias.
As it was reported earlier after in December, 2013 the chairman of Factory district court of Nikolaev Alexander Rudyak died and I left to the spouse Tatyana Rudyak who worked as the deputy head of department Glavgossluzhby in the Nikolaev area, big inheritance and money, on August 1, 2014 it I was missing.
As a result a week later after stealing the woman's body in a cellophane package was found in the river near Nikolayev.As a result the consequence brought charge to stepsons of the killed - the judge of the Central district court of Nikolaev Andrey Rudyak and his brother, the lawyer Sergey Rudyak, and also three guys who are accused performed by custom-made murder.