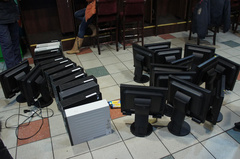 In Nikolaev in the afternoon on November 3 police officers withdrew the equipment from the illegal slot machine hall operating at the corner of Dekabristov Street and Lenin Avenue.
The place of events was visited by the correspondent «Crime. Is NOT PRESENT».
So, nikolayevets reported in militia that the gambling institution resumed the work. Arrived to the hall it is investigative - the task force of militia found in an institution of the administrator and two men one of which declared that simply is online on the sites of announcements.
As a result the militia withdrew on 14 system units and monitors, and also the payment terminal. Meanwhile not clearly, whether "old" computers which were taken away already earlier by militia are withdrawn, or organizers of the hall bought new equipment and now it again withdraw. We will note that this time organizers of the gambling hall decided not to come to an institution. Near a place of events were noticed the car of one of organizers, and also their lawyer.
We will remind that before from this hall the equipment was withdrawn already four times - last time less than a week ago, on October 28. We will note that for the third time of data the slot machine hall opened as returned them one set of the withdrawn equipment under the resolution of prosecutor's office.
We will remind, during the first withdrawal of slot machines the owner of a gambling institution Yulia Vitkolovskaya I snatched on the correspondent «Crime. Is NOT PRESENT» Andrey Lokhmatov also I threatened members of public formation with that it from Donetsk. Later according to the indication of prosecutor's office the militia closed criminal proceedings upon attack of the hostess of the game hall on the journalist «Crime. Is NOT PRESENT».