"I broke hundreds thousands destinies of young Ukrainians... Humiliates the Russian-speaking population"... The Kremlin curators reproach "the" political forces with non-performance of promises...


Here three weeks the Party of Regions breaks parliament work, referring to three reasons: unwillingness of the coalition to raise social standards and to oust the Minister of Internal Affairs "drunkard" Yury Lutsenko and the Minister of Education and Science of "nationalist" Ivan Vakarchuk. With "minimalka" increase everything is clear: the pure pre-election public relations, aren't present funds for it and aren't expected. With Lutsenko too full clarity - never Boris Kolesnikov will forgive him four months in a pre-trial detention center, and Rinat Akhmetov - gadenky tea. And Yury Vitaliyevich's German adventures are not any reason for his resignation.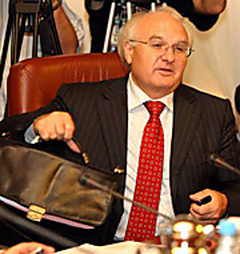 Ivan Vakarchuk
But why "regionals" so caught Vakarchuk - the senior? Probably that achieves its resignation of PR absolutely seriously - unlike "increase of social standards".
During powerful information attack to the minister deputies of PR attributed to it very many various sins. First signs becameodious Dmitry Tabachnik's open letter, published at the end of January. Ivan Vakarchuk was guilty and in corruption in an education system, and in an impoverishment of teachers, and in "total nationalist promotion which defines the content of educational process", and in introduction of system of testing which "disaccustoms pupils independently to think" to bring up them "in the spirit of comprador nationalism". And that he suggested to change Art. 5 of the Constitution of Ukraine to define Ukrainian as training language in Ukraine is most terrible (! ! ! ) Strange thing, and what else language has to be in this state training language on the 18th year of its existence? It - "comprador nationalism"? And to write off all really big problems which collected for many years for one Vakarchuk, at least it is unfair.
However "Tabaki's jackal" for a long time don't perceive seriously even in native party.But this time he obviously was the spokesman of the all-party line as new critical comments concerning Vakarchuk and interview of "regionals" over and over again started appearing. And on June 23 deputies of PR Tabachnik, Quickly, Gorbal and Tolstoukhov suggested parliament to dismiss the minister. On the same day PR fraction "signaling device" Mikhail Chechetov, whose chubby palm specifies by the obedient deputy how to vote in this or that occasion, detailed motives by which his colleagues were guided. He objected the head of the Secretariat of the President Vera Ulyanchenko who naturally connected emergence of the draft of the resolution on Vakarchuk's release with approach of presidential election. No,"silver-tongued orator" of PRdeclared, the Party of Regions wishes to release the minister from - that wants "to protect interests of simple people, first of all, young". It appears, "Vakarchuk the dull policy concerning carrying out external independent estimation broke hundreds thousands destinies of young talented Ukrainians. It destroyed high school... Still he copies history, deleted from it the most sacred on what it is necessary to bring up patriots is the Great Patriotic War... "
Simply horror. Not professor, and the demon any with horns. Here only as it he managed to break those hundreds thousands destinies? It because in Ukrainian should be written tests? So at the wrong door the criticism, respected sir Chechetov! If any destinies also break (and that much less, than you declare), those who urged not to learn a state language are involved in it just, agitated against it children and their parents who slowed down creation of the Ukrainian schools in the east and the South of Ukraine. You aren't irritated by your member of the same party, the secretary of the Donetsk City Council Nikolay Levchenko who urges to destroy in general Ukrainian as the phenomenon? Perhaps it in resignation? This high-ranking official - "regional" and his colleagues - adherents just also are the main responsible for problems who arise at young people by drawing up tests. Here the proverb about a fault rearrangement from the sore heads is extremely pertinent...
And on June 24 "the heavy artillery" joined: on air of the Kharkov regional TV company the leader of PR Victor Yanukovych declared that his political force intends to dismiss the minister Vakarchuk as soon as possible. Literally - "a sweeper sweep out".For what? And that the quiet and intelligent minister, appears "is humiliated by the Russian-speaking population" and "carries out policy of a violent Ukrainization". So that's that... Though Vakarchuk's any words would bring - like those - about "Russian-speaking goats who prevent us to live". And why, tell on favor, this Ukrainization "violent"? Unless on points of delivery of tests berkutovets with machine guns were noticed? You don't want - don't hand over. You want to study further, learn Ukrainian, state, by the way, write tests - and study as health in lyceum, a gymnasium, institute... Also don't listen to stupid levchenok.
The same some kind of expanded comment to Yanukovych's statement was given out on June 24 by the deputy of PR and formerjournalist Elena Bondarenko: this most "a violent Ukrainization" about which the chief told it, appears, potentially reduces "competitiveness of our children. The child who is compelled why - that on a whim of the President and the minister to listen to difficult sciences - mathematics, physics, chemistry, - in nonnative language, thinks any more of a subject essence, not of chemical and physical processes. She thinks of how to translate this or that term".
It is interesting, whether visited this madam thought that it would be best of all to make so that the Ukrainian children perceived Ukrainian as native and had no language problems. Quietly would listen to natural sciences in native Ukrainian and easily juggled with terms. Would have accurate self-identification, therefore and big competitiveness. Frankly speaking, unclear there was Bondarenko's opinion that supposedly testing barred a way to higher education institutions that who graduated from school 3-5-7 years ago. Acquaintance to materials of tests convinced the author what to hand over them much easier, than former transitional and entrance examinations.
No, it isn't it... And at all that in textbooks on music for 8-го a class 4 pages are devoted to Vyacheslav Vakarchuk, and to "Beatles" - 2 (really ugly fact, it was necessary not to be conducted at least on a lizoblyudstvo). And not that Vakarchuk - the senior still holds just in case vacant the previous place of the rector of the Lvov university. Even in our rough and unpredictable times it isn't really ethic.
But want to release Vakarchuk just for "Ukrainization" and "Ukrainian".Political scientist Vladimir KulikI explained why Vakarchuk among objectionable for "regionals" of government officials occupies one of the main places: "It ventured to pass from words to business: graduates and arriving to a position will have to know a state language. And it can't but cause hatred in people who want to be elite of the nation and at the same time to ignore Ukrainian. For supporters of so-called bilingualism - which actually much where would be Russian odnoyazychiy - more important to send it even, than the Minister of Culture Vasily Vovkun who insisted that Ukrainian sounded at movie theaters".
Approach of presidential election pointed a language question for mentioned by Kulik "Ukrainian not - Ukrainian" Ave. elite even more. Once "the second state" they made an ideologem one of the main in all the election campaigns. Communists "vitrenkovets", domestic radical voters and the Kremlin curators often reproach with non-performance of these promises. Therefore it is so important to reach though any victory on "the language front". This circumstance is one more reason of such irrational "thirst" of leaders of PR to Vakarchuk's overthrow from a ministerial position. After all the minister became one of key figures in real introduction of Ukrainian in extremely important - educational - the sphere of public communication.
Nikolay Pisarchuk