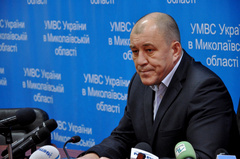 The acting as the chief of Head department of National police in the Nikolaev area Vitaly Goncharov recognized that in Nikolaev there are criminal authorities, a surname of one of which Titov, and which «in the world designate «Animated cartoon».
He declared it during the press - conferences on Tuesday, December 1.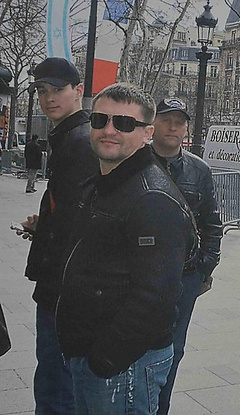 So, the question that attacked on November 15, in the election day, in the Ship district of Nikolaev on members of public formations people are people of criminal authority of Mikhail Titov, known in the city, was brought up. Goncharov confirmed this information.
- According to our information too this person is in the steady relations with one of criminal authorities of our city. All these materials during criminal investigation are studied…All tie this face and those persons who attacked, with criminal authority by the name of Titov whom today in the world it designate «Animated cartoon» , - I told в.и.о. chief of the Nikolaev police.
However, after that, when correspondent «Crime. Is NOT PRESENT» I told Goncharov that he needs to pay tribute as all his predecessors didn't recognize that in the city there are criminal authorities, в.и.о. the chief of police I began to call Mikhail Titov «so-called criminal authority».
- You asked me, whether these people have relation to so-called criminal authorities. What is the criminal authority? It is…Means once again I speak: on a question, whether have relation to group of so-called criminal authority? I answered–are related, according to our information, so-called criminal authority. I called its surname and called its nickname, - the colonel Goncharov answered.
We will remind as it was reported earlier, in The ship district of Nikolaev on Sunday, November 15, during process of vote in the second round of elections of the mayor near the polling precinct No. 480802 to the address Artem, 28-and some people attacked members of formations on protection of a public order «Cordon» and «Saviour» . Unknown attacked combatants and opened on them fire, according to preliminary data, - to one of them doctors did operation of the traumatic weapon therefore three persons suffered.
We will remind also, in January, 2015 then still being the head of department of the Ministry of Internal Affairs of Ukraine in the Nikolaev area Vitaly Goncharov I designated hearings and gossips information about so-called «looking» from the new power in Nikolaev.
Also earlier it was reported, how in June, 2013 then the general who was the chief of the Nikolaev REGIONAL REGIONAL DEPARTMENT OF THE MINISTRY OF INTERNAL AFFAIRS - the major Valentin Parsenyuk I declared that «looking» in Nikolaev isn't present, and is «the legalized businessmen».