The prosecutor's office of Odessa region directed to the Nikolaev militiamen the proceedings initiated against the Homeland party leader of Igor Markov upon hooliganism to avoid charges of biased investigation, reports "Reporter".
The first deputy prosecutor of Odessa region Mikhail Cherny reported about it.
"Business for objectivity, - I emphasize, only for objectivity, - it will be sent to the Nikolaev militiamen", - Mikhail Cherny reported.
According to him, the film with record of illegal actions was transferred to prosecutor's office. The problem consists in establishing authenticity of this film and to identify the person who makes these actions.
"This work isn't finished yet, expertizes are still carried out. I think that in Nikolaev the truth will be established", - Mikhail Cherny emphasized.
Reference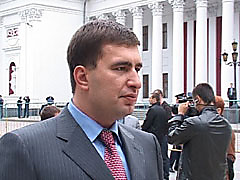 In March of the current year the prosecutor's office of Odessa region brought criminal case on Igor Markov's charge of beating of participants of the nationalist meeting which was taking place on September 2, 2007 at the building of the Odessa regional administration. At the disposal of prosecutor's office there is a record of meeting on which it is visible as Igor Markov personally beats demonstrators.