It is unlikely there is in the world other such state, capable to allow that the crime which customers will celebrate the ninth anniversary of its not disclosure soon, had the most direct impact on the second presidential election. And this regrettable fact won't change strange detention ex-the chief of Head department of criminal search of the Ministry of Internal Affairs of Ukraine Alexey Pukacha, even that, probably, the remains by miracle found in a place specified by it, really belong to Georgy Gongadze.
What possible procedural consequences of this loud detention, as a result of which gallant division how write the mass media, strongly surprised whole village but why - that not noticed by the field investigator with an experience, managed to tear off the general from cows? Alas, even if it will be recognized that the found elements of a skull belong to Georgy, essentially it won't affect already on anything, concerning a legal essence of loud process. Except for the status the general - the lieutenant who in that case will be iron accused not only that gave the illegal order on destruction of office documents, but also in murder. However, the consequence already set up a procedural mine under the first portion of the evidences given Pukachem, at once having interrogated it without lawyer and the fact of night interrogation needs to be motivated skillfully, it is desirable not backdating. And still нахомутали on trifles which it is quite enough in order that the court sent these indications to a basket.
As for possible indications А.Пукача concerning the instigator of murder, Kravchenko isn't present, Ferre isn't present. Who such Pukach? It will be only his word against the word of the person accused by it. No more than that. And really, it is doubtful that Pukach authentically knew who the real customer - the instigator of murder. Whoever Pukach indicated, it can't be fixed proofs, convincing not only for court, but even for a consequence.If, of course, to speak about legal aspect. Even in combination with unexpectedly legalized elements of films of Melnichenko about what the speech will go below. And exhaustive confirmation to that the chain between the customer - the instigator and performers is reliably interrupted, is that fact that Pukach is still live and at memory. And why, by the way, it seemed to Yury Kravchenko to be shot twice easier, than to move away the irreplaceable witness from the hypothetical chain which top, seemingly, and remains only the version on newspaper pages? Or, at it is that opportunities, not to "hang up" murder on anyone?
According to some information, Pukach I called repeatedly published for these years as the version an element of the criminal chain which links follow one after another in alphabetical order. And the first of them already will confirm nothing and won't disprove. But who will prevent to publish any other names? To prove participation of the instigator of murder Gongadze whoever called Pukach, it is almost impossible. As they say, the deposit remains. If is confirmed that Pukach really specified a place where fragments of a skull of Giya were found, in mass consciousness it substantially "legalizes" any "indications of Pukacha" which will be published by a consequence.
"Fugitive"
When in due time in news showed the shots which have imprinted as А.Пукач, already released on recognizance not to leave, I left the court building, one detail attracted attention. The general why - that was accompanied by two strong guys, without excess ceremonies movements directing it, slightly pushing on steps and holding it the head when landing in the car. So protection doesn't behave, the escort …
so works
This episode was remembered in connection with deliberately timely capture of Pukacha, so surprising, as well as its release on a subscription. And many facts are stubborn strung on the assumption that then on most - that business there was Pukach not to the written undertaking not to leave a place given in court, and having assumed any more serious obligations which haven't been issued procedurally. The obligations given by that whom it is more terrible to deceive, than to admit murder commission.
Enough of the published facts testify that on - to real Pukacha didn't look for. Any of them check demand. Some in case of confirmation are capable to become the strong and self-sufficient evidence of that professionally such work wasn't conducted.There are many people who surely had to be interrogated when studying contacts, communications of the fluent general. To them nobody came. Whether not therefore what silly to look for the one who meanwhile isn't necessary to you but whose locations is well known to you? There are also certificates of that Pukach repeatedly talked by phone to old acquaintances. There is, at last, information that during races of Pukach sold a ground belonging to it. Published this information interrogated? No.
Yes, today law enforcement agencies, happens, forget to interrogate the wife of the wanted citizen. But only not on such business. After all there were in bodies people who remember how it is necessary to work at least in exceptional cases. (Means whom it is necessary, convinced not to worry, and imitation of work or even real attempts to establish location of Pukacha other pathfinders of danger to puppeteers didn't constitute or were competently blocked, including effective "plums" of information in the press? )
"We are two years in a row together with SBU, field investigators of law-enforcement bodies went in the wake of Alexey Pukacha, we knew where he", - the deputy public prosecutor Nikolay Golomsha reported, "The Ukrainian truth" quotes. In pure form - surrender, by the way. So why Pukacha didn't detain earlier if knew where it? Probably, without form couldn't recognize him, all watched, expected when it leaves in full rigging …
And you represent as they all kagaly, approximately as on the published detention, years imperceptibly watch Pukachem. By the way, I was for these years and a mass outcome of prosecutors to Israel (where as us convinced, there was Pukach), but, as far as we know, nevertheless in other occasion. Unfortunately, all returned. And here the staff of SBU of times of Turchynov was in Israel with the most serious intentions concerning Pukacha …
Visit of Pukacha to Russia can't be proved already, but expert people claim that it there was.
Generally, much, connected with Pukachem, is shrouded in mystery. And, by the way, on our inquiry: whether there corresponds to reality information that after Giya Pukach's disappearance "For Courage" and in what this courage was specifically shown was awarded the order, the Ministry of Internal Affairs didn't answer. There once again pretended that aren't able to read.
Dances on bones
Despite investigative "blitzkrieg", the present moment of truth shouldn't be expected:the fugitive had enough time to consider the situation, and all agreements are reached long ago. And a few days ago declared that A. Pukach refused the lawyer. Thus the information stream which isn't controlled by a consequence is reliably blocked. Also will tell us only what will consider the necessary - who will check? As far as we know, as the free defender Nikolay Laptiyev is put to Pukachu. Nikolay Grigoryevich in the past - Popovic serving now sentence for murder of Gongadze's defender. It too, as far as we know, protected it for the state account. Nikolay Laptiyev - very sensible and competent expert as say, in advance showing particular interest to the volumes of criminal case devoted not to an essence of charges of his client of that time, the driver accused in the matter of Gongadze, and … Pukachu.
Immediately the next pre-election dances on Giya's bones began. First "pases" were executed by the deputy chairman of SBU Vasily Gritsak who is joyfully informing the public that tells Pukach. However, the Deputy Prosecutor General N. Golomsha fairly called it disclosure of secrecy of the investigation. But it is trifles, but instantly I showed the hysteric V. Litvin, this weapon …
is how effective
Also all militiamen went to reproach colleagues from the next departments with inappropriate public relations and right there to brag.
To consequence, and so shown unprecedented speed to hurry, it seems, to anything further. Now it has iron at least half a year, and the most admissible the law of 18 months. Also it will be a pity if there is true an assumption that business will try "to throw" in court to elections. Because the fact of transfer of business in court about what we will be solemnly told by the president, can appear for someone more significant, than a qualitative consequence. And already then, after elections, business will go according to a new configuration of political forces. Also it will be returned on additional investigation. And after all each gap in a consequence will give new opportunities for business use for political speculation.
When it was declared that an element of a skull transfer to examination which will take some weeks (subsequently called month, but it too not absolutely so), Giya's wife - Miroslava Gongadze immediately made the statement that will believe only to the conclusion of foreign experts. It is difficult to disagree with it. And carrying out such examination too requires time. Meanwhile examination was started by ours. We will wish them health.
In order that not only to transfer the found skull to foreign examination, but subsequently to have at least theoretical chance that the expert opinion will be recognized by the proof, a certain procedure has to be observed. It is known that similar actions were already undertaken with separate episodes of films of Melnichenko where it was a question of G. Gongadze. Results it it is expected any day. But …
To materials of criminal case law enforcement agencies Ukraine have no experience of familiarizing of the such document. At desire it can be got, using the dropped-out opportunity, and without it - to throw into a basket … on the basis of lack of the fulfilled procedure. Quite probably, what exactly consists in it initially planned hitch. Alexey Podolsky, also injured from hands of Pukacha with companions, declared in the interview published by "ZN" that in conversation with it, the State Office of Public Prosecutor which has taken place soon after solemn transfer of films for examination, investigators of the same State Office of Public Prosecutor very skeptically spoke concerning potential possibility of familiarizing with business of its results …
Besides, in a similar case no independent expert will give 100%. And reliability, for example, 99,6% at our attendants of the Law, trust as we know, doesn't cause. Perhaps simply because this figure weighs them from - for associations with habitual makhlezhy with solvability of crimes. But even if at a consequence stage the result of examination will be filed, to solve, whether is it the proof, the court can only. Means, anyway, the scope for maneuver with examination remains at any stage.
It isn't established yet that Giya's remains are found, Pukach at any time will be able to refuse all the indications also subsequently, laughter for the sake of, to address in Eurocourt on human rights. Because on its business it is already enough procedural violations, and the consequence still has time! And even in order that it is perfect in the legal plan to prove that Pukach gave illegal orders to destroy documents, it is necessary to work strongly still. That is even it will be not so simple to impute to it an office crime.
Well, also it is impossible to exclude theoretical possibility of that only existence of a material evidence will make almost impossible a demarche of a trio of the condemned performers of murder of Gongadze which charge was based before on their confession.Otherwise at the next change of the power they quite could try to reconsider the burdensome memoirs, having accused a consequence of falsification. All their indications, of course, are fixed as we will be told, other means. But we were repeatedly convinced how it on most becomes. At the same time the concentrated example of a legal exceptionableness and the obvious alogisms containing in sentences, Giya's concerning murderers, the relevant decision on business of the Supreme Court, published by "The Ukrainian truth" can serve.
And both contracting parties perfectly understand all above.
Therefore in that case it will be impossible to exclude that as a result of Pukach will receive the eight years for excess of office powers and still any fantastic, but possible in our country a delay of execution of a sentence for few years. After all the similar happened.
Well and if on the place, specified Pukachem, Giya's remains what could force the general to go to it are really found? Perhaps, only total absence of acceptable alternative. After all each of us has attachments, and at those who them is deprived - the nervous terminations always at itself(himself).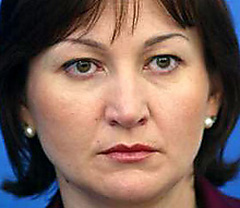 Valentina Telichenko
Valentina Telichenko - Miroslava Gongadze's representative, agreed to answer the questions "ZN".
- Valentina, you declared branch of a present investigation team of the State Office of Public Prosecutor in А.Пукача. Why?
- At once after detention А.Пукача procedural violation was allowed: the detainee examined in absence of the defender about what we learned from official statements. If the defender wasn't during interrogation, whether that there was it at acquaintance А.Пукача with the resolution on attraction it as accused, what had to precede interrogation? The Criminal Procedure Code of Ukraine provides obligatory participation of the defender as to the detainee incriminate a crime for which the life imprisonment is provided, in particular. The deputy the public prosecutor, obliged to control legality of carrying out a consequence, was present at this violation, but interrogation didn't stop. It is inadmissible.
In order to avoid further procedural violations discharge of such deputy and strengthening of an investigation team is necessary. It also would be a signal not only for a consequence, but also all society.Or we want to bring this matter to charge of court thus as we work now, - with violations Criminally - the procedural code and loud statements on the eve of elections. Or the president speaks: no, we will work differently, the consequence will use the best efforts for establishment of customers. At least, will exhaust all opportunities and will work until the maximum term of detention before transfer of business to court - will end 18 months. For achievement of result it is necessary to strengthen an investigation team, having appointed the person with sufficient professional level which could resist to powerful political pressure, subordinate a consequence to the person first of all caring of legality and productivity, and already then - about daily reports to the president.
- Earlier to mass media you told V. Shchetkin's name.
- In GPU it directs today an investigation. Performers of murder of Georgy Gongadze and those who illegally detained A.Podolsky and I took out it to the wood for the purpose of infliction of bodily injury and most А.Пукача as organizer of these crimes, established and called when V. Shchetkin directed an investigation. I am not familiar with it personally, but at it cases were investigated and went to court.
- Why your opinion on Harchenko changed? It after all in business since 2006, and you just now declare branch?
- Doubts in its professionalism, independence and solvency as investigator arose almost right after acquaintance. The long time a consequence actually wasn't held, there was only a work imitation. And I, and Miroslav Gongadze repeatedly publicly declared it and addressed to the president. It was clear that there is no political will to investigate a crime. Therefore then the power of an investigation team wasn't of great importance and I had no formal occasions to declare branch: there is no work - there are no violations. Now, after detention А.Пукача, there came critical time. Procedural actions have to be competent. In prosecutor's office there are clever professional investigators, and now their work could be not vain. They could use 18 months available for them for establishment someone from customers, helpers, those who covered a crime, etc.
- Someone? About it you don't create illusions?
- Certainly. Therefore at least someone from co-organizers, accomplices...If branch isn't, that, undoubtedly, before elections business will bring to trial with charge to one only A.Pukachu. It can be done though now - there are the sentences which have entered validity. And if he agrees - instead of it would be very difficult to agree to him, - that there everything is correct, already could "ring out". Well not on lifelong, but for term, not smaller, than minimum, received condemned for Gongadze's murder. That is, years on 12-15.
I don't doubt that Pukach with own hand strangled Gongadze. I also don't doubt that he is a lawyer and the clever person, adjusted to give testimony. But the chance to expose customers depends on professionalism of an investigation team. Пукач I am ready to give testimony which would show that it cooperates with the investigation. He well understands that by all means will go to Makoshino (a colony No. 91 where the former law enforcement officers serve sentence. - Edition). But whether he is ready to call the real motives and customers who are still live? Whether he still is ready to call live co-organizers? It is a difficult question. Whether it will start building versions which can't neither be confirmed, nor to disprove proofs? To tell about Kravchenko and Ferre? Referring to them, to tell about participation in business of today's politicians? According to dead men to show their motives? The court, obviously, before elections will receive such case papers. Versions of Pukacha become "incidentally" known for mass media, and the next series of speculation will begin.
And even the ephemeral motives of Pukacha specified by a consequence, court recognizes.
- Everything what Pukach declared before appearance of the defender, he can call over time the testimony given under pressure, with all that it implies...
- Certainly. It is possible to detain А.Пукача in absence of the defender, and here the investigator for the first time has to appear before eyes of the detainee accompanied by the defender. Participation of the defender obligatory from the moment of detention of the person. Even presentation of charge has to happen in the presence of the defender. I declared the petition for acquaintance me with procedural documents, but it didn't satisfy, and I appeal against it in court.
Procedural violations have to be always used in favor of the defendant.The lawyer who will protect Pukacha irrespective of, the state or someone another, undoubtedly pays its services, can claim that on interrogation without defender Pukacha intimidated, on it pressed that it was compelled to give testimony, staying under a painful impression from detention, etc. Here the main thing for protection - to insinuate results of investigation.
- And the consequence already put prerequisites for such succession of events...
- Yes. Already on Wednesday morning the deputy public prosecutor V. Kudryavtsev, obviously, staying not in mood, I told to journalists that at night employees of GPU interrogated А.Пукача and thus there was N. Golomsha. Over time, answering a question of journalists, the deputy chairman of SBU
V. Gritsak reported that А.Пукач agreed to be interrogated without defender. Who, except N. Golomsha, interrogated А.Пукача without defender? Why carried out interrogation at night? The Criminal Procedure Code allows night interrogation under exceptional circumstances, whether they are specified in the protocol?
Harchenko told me that he at that time was in holiday, and the first investigative action executed on July 27... But why then the head of an investigation team was on holiday at the time of detention? Why it wasn't withdrawn the day before if the detention was planned? For masking?
While I have no access to procedural documents therefore I don't exclude that, maybe, Golomsha himself interrogated Pukacha. If it took with itself(himself) for this purpose someone from investigators of GPU, here, obviously, the situation is similar to that which was with Pukachem and his subordinates. If the deputy public prosecutor speaks: we do quite so, whether the investigator to him can specify, what this violation of the Criminal Procedure Code, and to refuse? What consequences for such investigator will be? System after all the same.
- How you consider, the consequence will try to bring the matters into court as soon as possible?
- Unfortunately, both in SBU, and in prosecutor's office really seek to make it to elections, as soon as possible. Think, only genotiposkopichesky examination if to do it on - to the present, proceeds about 2,5 months, and even more long. And if to do it abroad, it is necessary to look for establishment, to agree on the estimate, to issue everything as it is necessary. That is for three - four months this investigation if there is a desire to establish customers and all involved, by no means can't come to the end.Besides, it must be kept in mind that the evidential base has to be the full, after all society will be extremely critically adjusted, as well as last time.
- To elections it is possible to manage unless to stick together any version where Pukach, for example, with Kravchenko would appear. To specify any motives. What's next?
- Well and what motives of Pukacha? It went to all this, only not to be dismissed? Why then Kravchenko didn't cover "the eagles", "having hung up" a corpse on any bum or the addict? Still the prosecutor's office repeatedly nodded that can do nothing as there is no Pukacha, and it - an important link between customers and performers. I consider that transfer of business to court to elections only with one accused - Pukachem - will mean obviously planned not exposure of customers as will close all prospects of further investigation.
- You agree what the location of Pukacha actually wasn't secret?
- This crime wasn't latent. Employees of the Ministry of Internal Affairs knew about it, since September, 2000. Knew, what division made it. Now the situation was similar. Certain employees of the Ministry of Internal Affairs guessed that Pukach where - that here, were informed with whom it came for contact. But didn't hurry to tell about it to investigators of GPU. Пукач as it became clear, not really - that and I disappeared, knowing as it look for.
Field investigators execute orders of the Prosecutor General's Office. If there is no reasonable assignment to put on listening of a certain citizen, field investigators on own initiative can't make it. If they received incomplete information on contacts А.Пукача from the investigator, have to spend a lot of time to bring together her independently. And now in Appellate court all permissions to restriction of freedoms of citizens are controlled by the judge M. Prindyuk, under its presidency in 2004 the decision on closing of criminal case against А.Пукача which in May 2005-го VSU recognized illegal was upheld.
- On it really at first made protocols on corruption, and then awarded?
- Yes, by the way, protocols on it workers of a municipal government of SBU made, but business took away in the central management, and its further destiny is unknown: probably, it there simply got lost.
- Her husband works in the Ministry of Internal Affairs?
- Yes, in the highest management. Here so actually looked for Pukacha.
- As it seems to you: the terrible find is Giya's remains?
- With a high probability - yes. Also I think that Pukach who for a long time all well considered, was ready to such succession of events, honestly called a place, but will dream now concerning versions.
- In my opinion, certain agreements with Pukachem were reached at a release stage under a subscription. How you think, to it could promise notable simplification of a fate for its indications?
- You know, to the driver Popovic promised that he will witness only, and detained in a court hall. And until then he thought that its surrender in prosecutor's office will suffice not to sit down.
- Unless the lawyer didn't tell it, what for it waits?
- I don't know it. And so А.Пукач too wants to live. Also it is desirable - not in Makoshino. He is a general, with arrogance. Pay attention: in the village he called itself(himself) not somebody, and the sea captain. Referring to dead men, it can build now any version. For smaller term, for comfortable conditions of departure of punishment (not to all prisoners as to it, carry coffee in the camera). And it is natural. The call consists in that to check and confirm or disprove its versions. The call in that is to learn from it the truth and to prove everything in court. And high professional level of an investigation team is for this purpose necessary.
- I am convinced that, by and large, for the process the fact of detention of Pukacha, practically, gives nothing. At most that he can tell about the customer, is referring to someone's words: Kravchenko, for example.
- The matter is that even for lack of Pukacha the consequence had to work at all other directions of this business, well-known, by the way.
- That is round N. Melnichenko, Presidential Administration (Litvin, Medvedchuk, etc.), E.Marchuka, Л.Деркача - everything about whom it was anyway written in the press, in particular and in Levinson mentioning Moroz's publications?
- Yes. And, as far as I know, all these directions weren't developed. As a result, emergence of Pukacha at all doesn't give prospects of establishment of customers. For the simple reason: effectively to carry out interrogation, it is necessary to know, what questions to ask. As the above-mentioned directions aren't developed, arrest of Pukacha can't be used with maximum efficiency.And business here at all that there are no skilled professionals. From the power always there were signals: those who successfully "dug in" business, since the prosecutor Obozovy who was justified for his actions in court, - received an official message of thanks. Over time he successfully directed on a good place - in ecological prosecutor's office. Perfectly the judges who were letting out defendants from - under guards feel. Unlike those who made basic decisions in business. Similarly - with investigators. The investigator making the protocol of interrogation by request that, say, also didn't watch Georgy, and the car wasn't, and we don't know about it anything, signed then the staff of Head department of criminal investigation department of Ukraine brought Pukachem, still successfully works in a prosecutor's office consequence. Those who worked productively, are already discharged today of a consequence or in general are dismissed. We will tell, in court one of the witnesses, interrogated many times, I declared that the investigator Yu.Stolyarchuk was the first who didn't aim to collect a negative about Georgy Gongadze, and was interested in the actual circumstances; the first who wasn't prejudiced. Now Yu.Stolyarchuk, as far as I know, in bodies of prosecutor's office doesn't work. Actually the power consistently specified that process, instead of result is in this case necessary.
- In what, in your opinion, the main problem consists, from - for what at Melnichenko always not everything is safe with his magnificent record library? You didn't have at all an impression, what, probably, it never and had no originals?
- The State Office of Public Prosecutor a long time imitated a consequence. When opportunities to examine mere mortals of citizens on the second circle ran low, without asking them new questions, - it was necessary to do something farther. To Melnichenko made advances - made advances, but it gave nothing. Made investigative experiment in Kuchma's former office where then there was Baloga. Dragged a sofa to and fro. Made this experiment with any "left" equipment. We scarified them, as this any not reproduction of circumstances. After that investigative experiments stopped. Melnichenko was allegedly partially satisfied. Then the consequence asks it to provide records. It seems to me, on original carriers Melnichenko has no primary records therefore he and didn't give them.The consequence instead of analyzing events, a context of those records, went on a string at Melnichenko, agreeing on carrying out examination concerning which it is in advance clear that it won't give a contribution to evidential base of criminal case. Most likely, after long thoughts it will be told that authenticity can't be established.
- How it is possible to legalize these films?
- It is necessary to prove reliability of records (initial carriers are for this purpose necessary) and an admissibility. Records were made in an office of the president illegally. Only the court can acquit Melnichenko (or those who actually wrote down conversations of the president), having drawn conclusions that this smaller crime, than what tried to prevent Melnichenko and the company.
On films there were very bright episodes in the case of A.Podolsky. I asked Melnichenko to provide records of these episodes. Even if in Podolsk procedurally we wouldn't manage to use record from - for origin and admissibility absences of proof, nevertheless attempt would be a good lesson for work on Gongadze's business. I addressed to Melnichenko, Miroslava Gongadze and Alexey Podolsky addressed. He promised, but further words business didn't go. Nikolay disappeared, and called only next day after adjudgement in the matter of Podolsk.
- Valentina, in your opinion, after so many years and with so many dead men in this case nevertheless it would be possible to bring it to logical end if there was the same political will which never isn't present?
- The political will means one - not to disturb a consequence. And if professional ambitious investigators came, in such conditions they could make it. Even today. After all dug out earlier much. You see, at us even Pukacha can be caught in so many years.
* * *
Except for people in shoulder straps, very many of which don't believe in guilt of Pukacha, perhaps, the majority of people without shoulder strap doesn't doubt his fault. Regardless of that, it would give out Gongadze's remains or not is a belief didn't change from the moment of trial over Giya's murderers. There was open only a question with the initiator. It as for usually anybody above not the interesting point of view of the simple inhabitants who are periodically turning into electorate.During this short period narrow-minded judgments become suddenly dear public opinion, to affect on which the deputy chairman of SBU who isn't descending from TV screens is called.
We very long waited when to us will tell the name of the one who conceived this terrible crime and hands of others realized it. But even if now we will be told suddenly the truth, nearly a decade of lie later, whether we will believe in it? But after all won't tell. And by and large, this concrete name is important at all so. Important that investigation of how Gongadze's murder was investigated, would shake society still more than circumstances of death of Giya. But such investigation will be never.
Important that, how many among ours, if one may say so, the elite, the obsessed power and money, those who is ready for the sake of them on everything, up to murder of the person and incredibly difficult demonstrable change to the Homeland. Because it is possible to argue infinitely and even to have unshakable confidence of that, the idea which has brought to "poddivanny records" and Gongadze's business where exactly arose, but indisputable there is one - practically everything is made hands of our citizens. And it is difficult to remember the public person who, having touched secrets of this business, didn't start saying lies or keeping back so that this innuendo equaled lie. Each of them, maybe, recognized himself better, but didn't pass test by Gongadze's business.
As for our nice militia. Important that Pukach, "the career cop" (according to Yu.Kravchenko's legendary expression), protofallen all steps of a ladder upward and at the top dug a hole to Georgy and at the same time to itself, - at all any exclusively rare degenerate in system. It, by the way, without exaggeration, was highly esteemed among colleagues. Ponder! It not statistics on all areas of Ukraine - only here, in Kiev, five employees of an outdoor advertizing are made responsible for murders! Two - in the matter of werewolves, three - for Gongadze. It that for such amazing personnel selection? And it not the opera which as obliges are every day in contact with bandits. Problem of an outdoor advertizing - to remain invisible and unheard. And any contacts with suspects. From where they such понабирались?
Together with Ferre, Kravcheno and Pukachem leaves bodies generation of the people who are knowing service and implicitly obeying the order. For short time law enforcement agencies strikingly changed. Today it is possible to claim with confidence: Giya's similar to murder repetition by order of is from above absolutely excluded.Only for money.
It is still important that we already got used to that the militia tortures people, and we get used to that militiamen of fellow citizens kill. That without banknotes militiamen in an emphasis don't see neither crime structure, nor its absence.
It is clear that law enforcement agencies can't be today others. One structure can't be normal in unhealthy society. Also it seems that to correct business no reforms because the historical chance was missed will be able. There is a method "White arrow"? If, of course, there is a sponsor.
The feeling of isn't simply lost that such it is good, and that such it is bad. Inevitably the unsteady side between a lawlessness and norm of life thaws.
P.S. For many of us the revived hope - that Giya's distressful body will be able to be interred, at last, …
becomes the main outcome of detention of Pukacha
No problem!
The president Victor Yushchenko considers that indications ex-the general Alexey Pukacha allow to put the end in the case of Gongadze. He declared it during a meeting with the public prosecutor, the head of SBU and the Minister of Internal Affairs on Friday. Yushchenko is convinced that "today, thanks to SBU work, the State Office of Public Prosecutor has the witness giving information of such character which allows to put the end to this shameful history for Ukraine".
The president stated confidence that end of a legal investigation of murder of the journalist Georgy Gongadze is the considerable certificate for Ukraine and the world of a celebration of the law.
At the same time Yushchenko noted essential negative influence on a course of investigation from authorities, "inhabitants of heaven".
"I know about that pressure which goes on a consequence, I know how not easy today to work to law enforcement agencies", - he noticed. In this context the head of state emphasized that the law-enforcement system of Ukraine will never have the worthy person, if such affairs as Gongadze's murder, won't be brought to logical end.
Having thanked for the carried-out work of SBU, the president told that today expects from the State Office of Public Prosecutor first of all legality and efficiency in investigation of this business, after all every day its delay "acquires political scenarios".
"I am convinced, through cooperation with SBU, the Ministry of Internal Affairs the State Office of Public Prosecutor will lawfully and quickly put the end in this case", - stated Yushchenko.
Also the president stated belief that today there is no big problem in putting on a dock of Victor Lozinsky, to finish Gongadze's business which for many years discredited Ukraine.
"I would ask that the Minister of Internal Affairs, the SBU, the State Office of Public Prosecutor felt responsibility weight on these affairs and I urge all of you to cooperate quickly today as in quickly - search, and investigative work", - Yushchenko declared. "Be partners, and then, it is convinced, you will show as far as in new conditions the law-enforcement system" can effectively work, - the president summed up.