On August 6 the descendant of the founder of forest cultivation met the Nikolaev journalists onTo Nikolayevshchina Andrey Skarzhinsky.
His great-great-grandfather -Victor Petrovich Skarzhinsky- I turned our waterless steppes into the Ukrainian Switzerland, assure of forestry management, I proved possibility of afforestation to steppes, advantage of an investment in this business of the capital without harm for other profitable directions of economy.
"Nearly 200 years ago on lands of Voznesensky and Arbuzinsky of areas birchwoods didn't grow, oak groves didn't rustle, there were no pine plantings, and there was only a naked steppe, a feather grass and sandy hurricanes which swept away everything on the way", - reports a press - forestry service.Victor Petrovich SkarzhinskyI managed to change this picture.
During the period from 1825 to 1876 this person for protection of fields against an erosion and droughty climate, and also for receiving wood landed about 1 800 hectares of the wood in natural boundaries "Labyrinth", "Ratsinsky giving", "Vasilyev пассика".
His great-great-grandsonAndrey Skarzhinskysays that there are in Ukraine at least three times a year - he lives in Russia. Yesterday the descendant visited a manor of the great-great-grandfather which is in Trikrata's village.
- Watchmen are afraid to remain in that house, because a ghostVictor Petrovichgoes at night, reads books, - I toldAndrey Skarzhinsky. - The word of honor if I there spent the night, everything would stop.
Andrey Skarzhinskyis fond of spiritism, extrasensory perception and other doctrines which the Bible calls "nasty thing before God".
But at the descendantSkarzhinskythere are also worthy parties about which he told at a meeting:
- I wrote 24 books, from them about 80 verses are set to music. Together withBoris Nevzorovwe act on Taganka, - it is necessary to notice,Andrey SkarzhinskyI spoke about the acquaintances to known and influential people much.- Now I write the book about your edge.Vladimir Yaroshenko, the forester, collected so much information! He addressed to me that I helped it to make the art book. We assume it to let out by new year.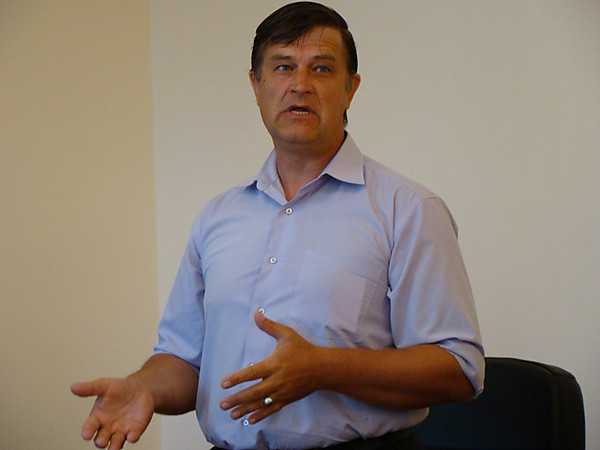 On a question of the journalist of the relation to opening of a season of hunting on the Kinburnsky SpitAndrey SkarzhinskyI answered that treats it badly. But on a question of the chief of regional management of forestryPetra Palamarueka"And you hunter? ", the guest answered:
- I hunted much, I had the 16th caliber. I repent. I killed two squirrels one shot. Because they sat at distance of five meters from me. There, in the north, it is very easy to hunt. But I love fishing more.
It is necessary to tell that the known ancestorAndrey Skarzhinskytoo I liked to hunt.
About it the following memoirs remained: "HobbyV. P. Skarzhinskythere was a hunting for animals and birds, for this purpose it held big pack of hounds of dogs and the whole staff of hunters".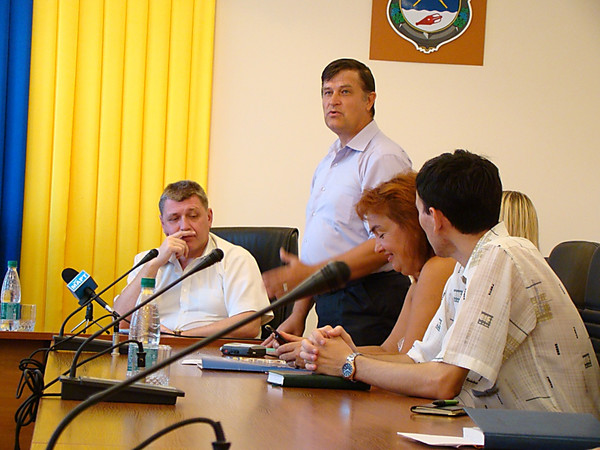 By the way, didn't miss at a meeting and such subject, as great-power chauvinism of Russians (dominating the relation of Russians and their government to other people) in relation to Ukrainians.
- Yes, the tsaregradsky arrogance remained, - toldAndrey Skarzhinsky. - Sometimes Ukraine is considered as the performer.
VIDEO