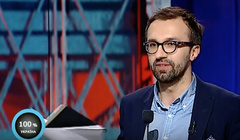 Recently appointed chief the GFS Nikolaev customs Roman Kril is a person close to the People's Deputy of Ukraine of Irina Suslova who has gone to parliament from "Samopomoshchi", and now entered into BPP fraction.
It on air of the Schuster Live program was declared by the People's Deputy of Ukraine Sergey Leshchenko.
"It appears, her two months ago (Irina Suslova, - the edition) a card for vote has been leased - her card already "knopkodavit" from BPP sector. And the person, close to her, in January appointed head of the Nikolaev customs. In January the person, close to her, was appointed to direct the Nikolaev customs, in February her card votes in BPP sector, and in March she enters fraction...", - Leshchenko has declared.
We will remind, earlier, in the interview to "Преступности.НЕТ" the acting chief of the Nikolaev customs Roman Kril has declared that on him at anybody isn't present any «ties» .
A NUMBER OF MEDIA was already hurried to be declared that appointment in the Nikolaev customs of 29-summer Roman Kril who worked as the chief inspector of one of departments of Central office of GFS before is, allegedly, peculiar payment of Suslova for the "correct" votes.
At the same time, It should be noted that Suslova has become constant visitor in Nikolaev recently. So, last week she has even given in the city a press - conference. It should be noted that during given a press - conferences Suslova, for some reason, in addition, has begun to sound a position of the Nikolaev people's deputy from BPP David Makaryan concerning support of Groysman's candidacy to them to the Prime minister's position.
It is known that Irina Suslova in 2014 from the level of the consultant of the regional politician thanks to a brand «Self-help» I became the People's Deputy. Then, without having managed to take the oath of the people's deputy, I have started split in «Self-help» also I have formed separate deputy group «Will». Now she has entered BPP fraction.