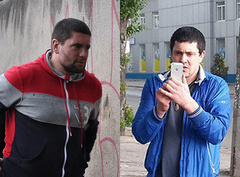 Car «Volkswagen» with numbers of state registration AE3826HH on which in Nikolaev there have arrived residents of Kherson Sergey and Dmitry Kalchenko it was the frequent breaker of rules of traffic.
The corresponding video which the moments of violation of traffic regulations recorded on videoristrator of other participants of traffic have entered is published on YouTube video hosting.
We will remind how it was reported earlier, in the afternoon on Thursday, May 5, in Nikolaev near the building of the Central district court two residents of Kherson are brothers Dmitry and Sergey Kalchenko who are judged for attack on field officers, interfering with lawful journalism, with application physical force have taken away from correspondents «Crime. Is NOT PRESENT» camera. Also attackers have put to one of correspondents «Crime. Is NOT PRESENT» several blows to the area of the head.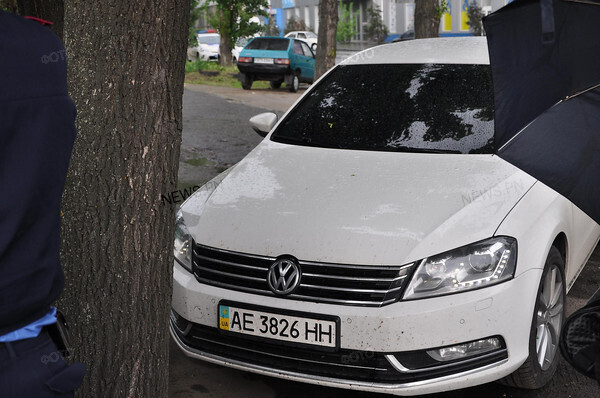 So, according to video, the car «Volkswagen» at least several times I passed intersections on a prohibition sign of the traffic light, I have nearly brought down pedestrians on transition, I have created an emergency.
Besides on two videos allegedly Dmitry Kalchenko who has sworn at one of drivers, and also the staff of patrol force in Kherson is recorded.
ATTENTION! Video contains an offensive language 18+
Also it is worth reminding that in Odessa Dmitry Kalchenko nearly I have brought down the staff of patrol force.
It is known that earlier in Nikolaev Kalchenko's brothers tried to drag to themselves in the car the girl who has reported about it in police. The patrolmen who have arrived to the scene have met active resistance from swells, who also rushed on the passersby removing violators. It was succeeded to stop everything only precautionary shots.
Patrolmen brought aggressive swells to office of police where having found out circumstances them have released and only in three days have again detained, and after them have bailed in 170 thousand hryvnias.
At the same time the governor of the Nikolaev area has given them accurate characteristic–cattle, having declared at the same time that their place–behind bars.