On August 23 in the Crimea the new deputy minister of internal affairs, the chief of the Department of the Ministry of Internal Affairs of the Crimea Gennady Moskal was presented to staff. In a week after appointment in the city hall of Simferopol passed searches and proceedings upon illegal allocation of the earth were initiated. "The left coast" found out from the Interior Minister of an autonomy as took place the first 1 days in the new - an old position (g - N the Russian already held this position from 1997 to 2000) and that else happens in the Crimea soon.
Gennady Gennadiyevich, the speaker of the Crimean parliament Anatoly Gritsenko and the prime minister of the Crimea Victor Plakida didn't come to your representation to staff. There is at you a feeling "the among strangers - the stranger among the"?
And what I with them can have general relations? I am the deputy minister of internal affairs of Ukraine. My chief, g - Lutsenko's N, sits in Kiev.
But they at desire can prevent you to work?
God save us! We still can look at it who to whom will prevent. They have to be engaged in what it is necessary to them - there is ARC Crimea Constitution, functions of the Supreme Council of an autonomy there are written accurately out. Today, during crisis, works a plenty, let help to return deposits to citizens, are engaged in investments, socially - economic development of the region, improvement, harvesting … To eat than be engaged. And the militia knows the functions, and militia - body of the central submission.
If to take for a starting point 2000 when you left the Crimean militia what changed since then?
When I left the Crimea, was nobody - many поудирали, on many there were plans "to document", many "sat" in a pre-trial detention center and waited for the fate. But it happened as it happened. In what way and as they rehabilitated themselves, it already a subject of another story and not for press pages, and now it is necessary to restore simply social justice, and everyone has to be punished for the crimes.
That is the Crimea can be considered as the Ukrainian Sicily today? As far as criminal groups "Bashmaki" and "Seylem" are now active?
Well, Sicily I wouldn't call, now попритихли, but I have them the main question to them not as to today's respectable deputies and businessmen, and as to members of criminal groups who выстреляли one thousand innocent people and participated in all these explosions - executions and other shootouts which were in 90-е years. Probably each of victims still had mothers, brothers, children, and they too wait for justice and punishment from the state. And killed both businessmen, and heads, blew up the first vice-a premiere of an autonomy. Shot till 8-10 people. I think that it is necessary to be responsible for it.
These facts are documented?
On them criminal cases are brought. And according to the current legislation, in those cases where the life imprisonment is supposed, limitation periods aren't present, and under rasstrelny articles as, for example, custom-made murder, life imprisonments everywhere are provided. And as limitation periods aren't present, a field for work very big, it is necessary to roll up sleeves and to undertake old affairs. And old affairs are just a key to those who was powdered, smoothed, smeared hair with brilliantine and so forth.
That is I correctly understand, what "Boots" and "Salem" as an organized criminal group don't exist today?
They are, but their interests already much higher is a business, advance of the people in political parties, local self-government institutions, earth distribution, raiding, real estate capture and so forth. That is economic interests.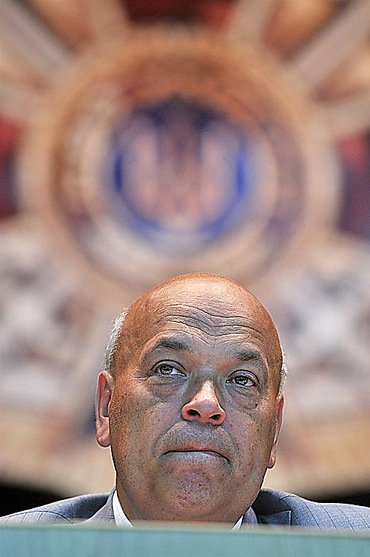 Now one of the main problems in the Crimea - earth self-captures. Why the militia stays idle?
That in the Crimea there were earth self-captures, is not wine of militia, the militia of the earth here has no and to anybody it doesn't give out. It is in property of territorial bulks. And distribution of land not on - human and not on concepts led to that it was given to inhabitants of Kiev, to Donetsk citizens, днепропетровчанам, to Muscovites, and the local population was deprived. It is one of the reasons of these self-captures - they after all took not that already to someone gave, and that kept and was at the disposal of rural, city or settlement councils. Second question: local councils don't want to solve the main problem with the earth - to make the register of all Crimean Tatars, wishing to receive the earth. After all then everything becomes clear.And so the same people register in different lists. If there is a unified register, at once will see that the person registered in some lists. To cause and to ask it: "Dear, you where want to receive? Because you have the right to be only in one list".
What you can tell about criminal case against the deputy of the Supreme Council of the Crimea from Party of Regions Alexander Melnik?
It is, and there are no doubts that it will be made responsible for hooliganism and, most likely, not the Crimean court.
Still being on a post of the permanent representative of the president, you filed a lawsuit the claim against the mayor of Simferopol Gennady Babenko and claimed that he in the chair sits illegally. What now?
There is a mass of the decisions of the courts confirming that he is an impostor and has no right to sign any decisions. But he thus signs decisions on the ground. Now we understand. If its people so love as it speaks, it was necessary as Leonid Chernovetsky, to go for re-elections and to prove the legitimacy. And to keep on bayonets of members of the same party and to be covered with any political prosecutions and maniacal demands is it is no good.
You carried out a search in the Simferopol city hall. Where - that still you plan loud searches - or while on it stop?
Well, give I to you I will give all addresses, and you at yourselves will publish them.
At least tell, you plan or not.
The first principle quickly - search activity is that? Conspiracy. If we say everything, what we will carry out within quickly - search activity, why in it to be engaged?
Firms of the deputy of the Ukrainian parliament from Party of Regions of Anton Prigodsky privatized more than 100 hectares of the earth on YuBK, in particular under construction golf - club. Whether it will lose this earth, how Victor Yanukovych of the residence in "Mezhigorye"?
While I can't tell anything, it is necessary to understand. The question is on the agenda - as speak at the airport, in a waiting mode.
But checks on the ground in general will be?
On all signals which to us will arrive, we will react, regardless of names or positions of people receiving the earth.
In political circles it is rumored that besides performance of the main functions, you sent to the Crimea to weaken positions of Party of Regions before elections and to lobby business - Alexander Babakov's interests.
And who is such?
Deputy of the State Duma of the Russian Federation.
And I that with it have the general?
On hearings, g - N Babakov "sympathizes" with your chief Yury Lutsenko and sponsors his political force, and - NANOSECONDS on a quota of "National Self-defense" passed some people whom directly connect with Babakov in electoral lists of the WELL block.
I am the first time about such I hear. If it is possible, say hello to it through your edition and let he will tell what is necessary to it support in the Crimea and in what. With anybody from deputies of the State Duma I don't support neither personal, nor the friendly relations. And the more so I have with them no business - interests.
And how about weakening of Party of Regions?
The communist party was strong that it was engaged in selection, arrangement and education of shots. And at Party of Regions in the Crimea it didn't turn out - they compromise themselves with inner-party fight and the invitation in party of criminal authorities. I think that it is a samokompromentation, and self-cleaning is necessary. But on it the political will of the top management is necessary. I am ready to help them with it, and I will welcome any cleaning. And as they neglected all this, there were disagreements in the party. People were disappointed in them because see a difference meanwhile that was promised, and that is: дерибан lands, inner-party squabbles, a personal profit and criminals in ranks of the party.
In the Crimea the mass of people have two passports: Ukrainian and Russian. You will be engaged in them? There are any tools to control and elicit such facts?
There are no such tools. Our law on nationality at all is no good - in the Constitution of Ukraine the dual citizenship is forbidden, but against it any law doesn't provide any sanctions, and it is impossible to check it. All who feel like it now speak about a dual citizenship, but anybody in the Crimea didn't detain the citizen of Ukraine with the Russian passport. The Russian passports, and the pro-Russian moods have to disturb politicians not. Those who shouts in the Crimea against Ukraine, - all members of the pro-Russian organizations, but unanimously thus are citizens of Ukraine. And people take the second passport not from political, and for mercantile reasons that was where to run if something happens.
Olesya OSTAFIYEVA