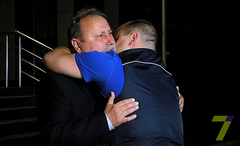 Pledge of 5,5 million hryvnias in size for the first vice-the governor of the Nikolaev area Nikolay Romanchuk who is the main person involved in corruption scandal the son Denis has brought him.
The newspaper writes about it «Facts».
We will remind, On June 3 in Nikolaev during special operation of the State Security Service of Ukraine and military prosecutor's office for extortion of a bribe in especially large size for permission to quarrying four highest officials among whom there is a first deputy head of the Nikolaev OGA, have been detained Hero of Ukraine Nikolay Romanchuk. On June 8 court I have arrested Romanchuk also I appointed pledge in 5,5 million hryvnias.
On June 22 bail was posted and vice-the governor has left Odessa a pre-trial detention center. At an insulator he was met by the son Denis with the wife and have taken away by the son's car.
Press - the secretary of military prosecutor's office of the Southern region Yana Stekachova has reported that the former official was released in several hours after Denis Romanchuk has posted for him bail. Now it is checked whether the means which have made pledge belong to Nikolay Romanchuk. If check confirms it, money will be arrested, and the defendant will return to a pre-trial detention center.