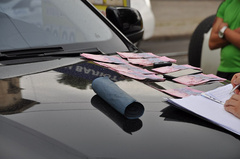 The first deputy head of GU GFS of Ukraine in the Nikolaev region Roman Podgorodinsky demanded through the «representative» Aleksandra Nikitina from the businessman of 540 thousand hryvnias monthly.
About it there is a speech in definition of Seaside district court of the city of Odessa on carrying out a search which is available on hand «Crime. Is NOT PRESENT».
We will remind, on Tuesday, August 23, on suspicion of systematic extortion and taking of bribes the first has been detained deputy of chapter GU GFS in the Nikolaev region Roman Podgorodinsky.
Proceeding from definition of court, to law enforcement authorities the owner of three firms has filed a petition that officials of GU GFS of Ukraine in the Nikolaev region, in particular tax police extort from him a bribe in especially big size. The search which has passed at the end of the May passing for about one years from the enterprises during which the staff of naldogovy militia has withdrawn accounting documentation and office equipment became the reason, having actually blocked work of the enterprise.
«In the same day during telephone conversation with the citizen Alexander Nikitin who has called and was presented by the representative of the first deputy chief of GU GFS in the Nikolaev region who coordinates work of tax police of Roman Podgorodinsky and during the personal meeting to the businessman the last has delivered the requirement to pay a monthly reward of 0,5% of income gained by the businessman for reporting month, namely–about 540 thousand hryvnias proceeding from volume according to the declaration and financial statements for April, 2016» , - it is said in definition of court.
In case the businessman refuses, Nikitin threatened, exercising the power and official position of Podgorodinsky, to block activity of his enterprises with further carrying out searches. Podgorodinsky has personally confirmed the same requirements during communication with the businessman.
It should be noted that, according to the interlocutor of the edition in military prosecutor's office of the Southern region, the high-ranking staff of prosecutor's office of the Nikolaev region and Management of protection of economy of GUNP in the Nikolaev region are also involved in this crime.
At the moment Roman Podgorodinsky is brought to Odessa as case is processed by military prosecutor's office of the Southern region. The measure of restraint to him will be chosen by court of Primorsky district of the city of Odessa.
It is known that the military prosecutor's office will send to court the petition for election of a measure of restraint in the form of detention for the first deputy head of Head department of the Public fiscal service in the Nikolaev region Roman Podgorodinsky detained the day before.