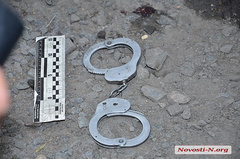 In смт the Curve Lake several hundreds of locals have gathered on Nikolayevshchina at the house of Alexander Zuckerman beaten to death the day before by police officers–people demand fair investigation of a crime.
About it «Crime. Is NOT PRESENT» locals have told.
According to them, the tragedy has happened the day before at night. Alexander has come back home tipsy and has rowed to the wife.
- There has arrived the mentovka, he pobushevat a little. But his mother has come running, has seated in the car standing in a garage, and he has fallen asleep. But cops have pulled out him from the car to the yard, and have hammered to death with bludgeons, legs and hands. Before it to him have put cuffs, hands were behind the back. He has begun to spit blood, mother has cried. And they have told him: «you will spit not it» yet, - the local resident Inna has told.
At the moment near the house of the dead several hundreds of people who don't allow to take out Alexander's body on have gathered it is judicial - medical examination to Pervomaisk.
- People all against that carried to Pervomaisk. Here a mentura all from Pervomaisk. They in Curve inflate a lawlessness here. Yesterday the boy was nearly beaten for the fact that he was without a helmet. And recently have got the man from the car and have beaten in the face of the wife. Too from Pervomaisk militiamen. We have a May Day mafia in the person of cops here, - the woman has told.
At the moment to the audience there has arrived only the local prosecutor, however nothing concrete to them was told. People are ready to stand further until guilty persons are punished. But nearly the main spirit in crowd is desire with own hand to punish the staff of May Day police station.
We will remind that in July, 2013 Vradiyevki's inhabitants have been revolted with brutal rape and beating of the local resident Irina Krashkova in which militiamen were involved. Wave of anger and discontent with passivity of law-enforcement bodies then it was splashed out in storm of Vradiyevsky regional department of militia.