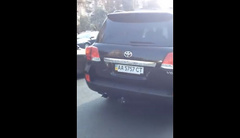 In Kiev founder «Rosukrenergo» on the jeep «I have given a ride» police officer.
The journalist Andrey Dzindzya reports about it in Facebook.
«Just I observe a situation as I have given a ride to cattle on the jeep on the police officer's cowl! AA5757CT from the place of events has escaped! All who can identify the personality!» ,—he has written.
Then the journalist has reported that have identified the personality of the driver—Karpenko Roman Valeryevich 1969 (owner Karpenko Lidiya Vasilyevna).
«Roman is a founder of scandalous Ltd company «Rosukrenergo» code 25402952. There is a chance to say hello Firtasha» ,—he has written.
We will remind, in Kiev ex-earlier - the leader of NewsOne channelI have brought down the patrolman also I have accused police of a lawlessness.