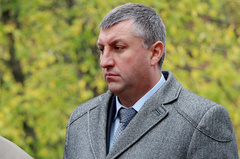 On Monday, October 17, the heating period on all objects of housing stock, other objects begins. Connection of systems of heat supply will be carried out on the basis of dresses which are given by performers of services.
About it there is a speech in the order of the mayor of October 17, 2016 No. 270r, reports department of information support of the Nikolaev city council.
Besides, according to start-up of heat first of all will be provided with the order of the mayor on objects of the social sphere.
The deputy mayor Valentin Gaydarzhi has noted that city services are ready to giving of heat to houses of residents of Nikolayev.
«Everything that depended on the city, the city has made» , - Gaydarzhi has declared.
According to him, the organizations now heatsupplying - the regional municipal enterprise "Nikolayevoblteploenergo" and PJSC Nikolaev Combined Heat and Power Plant which is in state ownership, - conduct negotiations with national joint stock company "Naftogaz of Ukraine" on supply of gas and allocation of limits of gas according to contracts. At 16:00 the meeting of power headquarters in the Regional State Administration after which, perhaps, the situation on heat will clear up has begun.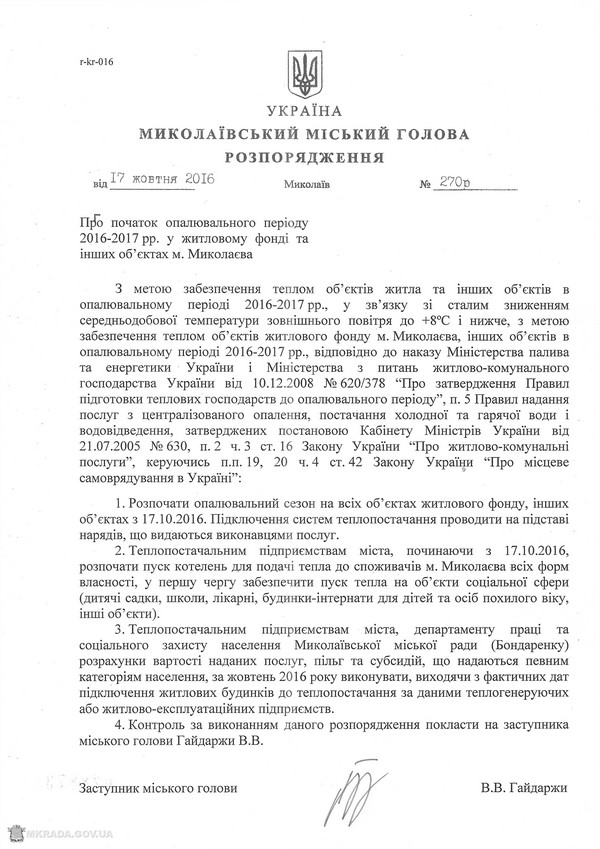 Let's remind that earlier was reported that as the issue with supply of gas in the Nikolaev region isn't resolved yet, in Nikolaev recommend to reduce occupations in kindergartens and schools.
Let's remind, earlier it was reported that for the first time over the last ten years as of October 10 regional heatpower and combined heat and power plant aren't ready for 100% by the beginning of a heating season. At the enterprises have declared that «There will be a gas–it will be warm» .
Also earlier it was reported that Senkevich has disposed to begin a heating season in the Nikolaev kindergartens, schools and hospitals where there are boiler rooms.