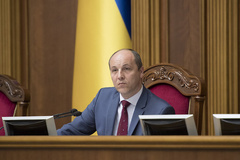 The speaker of the Verkhovna Rada Andriy Parubiy declares that he will appeal against the decision of Pechersk regional court of Kiev which has obliged him to disprove charges to ex-the Chief of Presidential Administration Victor Medvedchuk in financing of extremist groups in the east of Ukraine.
Parubiy has reported about it on a request to comment on the judgment, transfers «Interfax - Ukraine».
«This court proceeds from 14th year when I have publicly told that Medvedchuk, on my belief, was involved in the organization of separatists in the east of Ukraine. He has filed a lawsuit. I have won all courts on all instances. He has repeatedly filed a lawsuit—now in Pechersky has also received this decision» at the first stage,—Parubiy has told.
«But undoubtedly, I, my lawyers and lawyers, we will submit the appeal. I have no doubts that the appeal will be won» ,—Parubiy has declared.
He has also reported that he has transferred all materials, which «confirm Medvedchuk's participation in the anti-Ukrainian actions on Donbass» has transferred to the Prosecutor General's Office during his interrogation in the matter of the Maidan.
«I have transferred materials a few weeks ago. The State Office of Public Prosecutor studies these materials» now,—Parubiy has told.
He has reminded that in operating time the secretary of the NSDC he has arrived to Luhansk in the first day of occupation of the SSU and there communicated with fighters of the direction.
«From them I have obtained this information» ,—he has specified.
Parubiy has also specified that according to his information, Medvedchuk was already called in GPU about it.
Let's remind, on October 26 a meeting of activists of party of the godfather Putin Medvedchuk in the Nikolaev RSA have broken «Azov» and volunteers