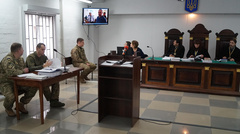 In the Central regional court of Nikolaev on Friday, November 11 where criminal proceedings concerning ex-vice-the governor Nikolay Romanchuk are considered, video from a search of his study has been published.
The correspondent reports about it «Crime. Is NOT PRESENT».
During a search 7 thousand 489 dollars and 1 thousand 360 euros have been found in an office 60 thousand 321 hryvnias. In the same place also cash cards, documents, Romanchuk's records and other personal objects have been withdrawn.
Romanchuk has explained an origin of money to those that he has removed 13 thousand US dollars the day before from own deposit. A part of money has been exchanged for national currency, and a part was in dollars and euro. Romanchuk planned to spend money for rest.
A question of the judge Vladimir Aleynikov why Nikolay Romanchuk stored money in a workplace, ex-the official has answered that he doesn't take the constant place of residence. At the same time he has also told that he was able to afford such sums, being the director «Ocean» received a high salary which arrived on the deposit.
It should be noted that the protocol of survey of the withdrawn things which passed in premises of military prosecutor's office of the Nikolaev garrison has been read later. Among the withdrawn things, except already published on video, there was also a small sum of money, Vodyano's decision - the Lorinsky Village Council of the Elanetsky area, the laptop. After that Romanchuk has begun to assure that the military prosecutor during a search constantly distracted the official and even allegedly threatened him. Ex-vice-the governor doesn't deny that to him could «to throw» some things.
It is known that On June 3 in Nikolaev during special operation of the SSU and military prosecutor's office for extortion of a bribe in especially large size for permission to quarrying have detained hero of Ukraine Nikolay Romanchuk. Also have been detained him assistant and driver. Among other persons involved there was also an assistant to the head of the Nikolaev regional council Gennady Levchenko who at the moment is «is in hiding» . It became known later that the first deputy head of the Nikolaev regional council also took part in the corruption scheme Mikhail Sokolov.
On June 8 court has arrested Romanchuk also appointed pledge in 5,5 million hryvnias. On June 22 bail has been posted and vice-the governor has left Odessa the pre-trial detention center. It became known later that Romanchuk's son Denis has posted bail in 5,5 million hryvnias.